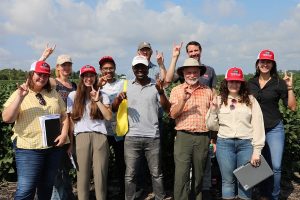 Professor Fred Gould, in collaboration with NC State's Genetic Engineering and Society Center, directs the program in "Agricultural Biotechnology in Food Energy and Water Systems" (AgBioFEWS) that supports graduate students from diverse natural and social science disciplines through convergent approaches to training and research. Dr. Gould and his colleagues have been awarded an approximately $3 million grant from NSF's National Research Traineeship (NRT) for fellowships in this program.
AgBioFEWS students work together from differing perspectives to examine current and potential future biotechnology products and their development pathways to assess if and how they can be used to improve FEW Systems for societal benefit. The PIs have developed collaborations across the NC State campus and beyond to structure a program that builds teams of graduate students who are getting PhDs in specific natural and social sciences programs. Dr. Gould reported 16 NC State faculty engaged from five different colleges.
The first cohort of nine graduate students in the AgBioFEWS program spent the Summer of 2019 in Eastern NC visiting with farmers and other stakeholders to gain an understanding of the agricultural systems in the region and how biotechnology impacts the dynamics of that system. The region is dominated by two crops: cotton and corn. Both of these crops have been engineered to be resistant to specific herbicides and to contain a protein that is toxic to caterpillar pests. The students in the cohort went on to coursework in genetics, communication and systems modeling, and they are now starting their group research project.
A new cohort of nine students came into the program in August 2020 from five different colleges. These students were selected from 65 applications. This cohort and the AgBioFEWS faculty faced a number of challenges due to the COVID-19 pandemic. Instead of immediate immersion into a farming community, the students started with four days of on-line orientation and are now taking on-line courses. The new cohort of students are forming a strong team through Zoom discussions and projects and hope to be engaged in fieldwork by June 2021.