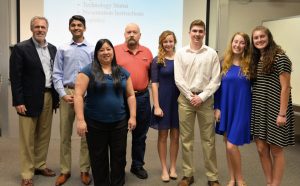 Apex Friendship High School (AFHS) teacher Dan Jackson has been collaborating with KIETS Associate Director Raj Narayan since 2016 to develop the Applied Synergies Partnership (ASaP) Entrepreneurship Leadership Program focused on enabling entrepreneurial leadership skills in high school students in partnership with the NC State TEC Program faculty in the Poole College of Management. In March 2019, with support from the Hutchison Law Group and local business leaders, ASaP was formally established as a 501 C 3 organization and has engaged over 40 professionals and partners from diverse companies such as State Farm, PlyGem, SAS, Biogen, Citrix among others.
Moreover, 100% of the students who participated in the program in 2018 and took the state-mandated end-of-course-assessment met or exceeded the test proficiency levels for the second year in a row. In October 2019, the Kenan Institute helped host students to visit NC State University including the Hunt Library, HQ Centennial, Albright Village, and Entrepreneurship Garage, and NC State Entrepreneurship Clinic. Several of the AFHS students have been admitted to NC State with an interest in continuing their entrepreneurship education.
ASaP is currently working with the NC State TEC Program, KIETS, and Leslie Scott to develop a curriculum guide and resource for Honors Entrepreneurship that is aligned with the NC Standard Course of Study and will be available to all teachers in NC. In addition, ASaP is developing a collaboration with the Kenan Fellows Program and The Innovation Project (TIP) to engage specific NC school districts to provide relevant hands-on entrepreneurial education resources and training for teachers. The goal is to develop a proposal to entrepreneurial funding organizations and industry partners for further development and dissemination of this program model.