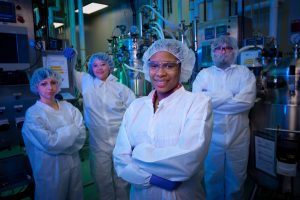 State funds allocated to BTEC are aimed primarily to support its educational and training program, which are based on hands-on instructions in state-of-the-art facilities. The BBDC funding provided by the Kenan Institute is helping BTEC staff, graduate and postdoctoral students participate in industry analytical and process development projects, which are not funded by the State. BTEC provides matching funds in the amount of $2 million in facilities for this effort. In addition, BTEC is providing leverage in the amount of $180,000 per year in staff salaries to support the analytical and process services program. In fiscal year 2016-2017, BTEC will complete roughly 24 bioprocess and analytical services for a total of $280,000.
In addition, BTEC is on the second year of a grant from a textile company to develop novel nonwoven membranes for separations for $350,000 and a one year grant from a resin company to develop new ligands for purification of proteins form plasma for $125,000. A European producer of chromatographic resins just signed a Testing and Services Agreement for $60,000 for one year. These bioprocess and analytical services efforts have enabled BTEC to reach national prominence in biopharmaceutical manufacturing research. In 2016, BTEC announced a partnership with Bio Process International (BPI) to conduct a yearlong outreach campaign targeting industry leaders.
The partnership will focus attention on industry-specific education, training, and professional development. Specifically, BTEC collaborated with BPI to develop and lead BPI Theater events at Interphex 2016 in New York City and BIO 2016 in San Francisco. BPI's Bioprocess Theater series at these events will enable attendees to interact with leading biopharmaceutical industry experts as they present, discuss, and debate the impact of the latest scientific and technology trends.
Session presenters discussed training for emerging technologies, professional development, workforce preparation, program development, ROI, and the value of training partnerships between academia and industry. BPI Theater talks and related content were collected, printed, and distributed to BPI's 30,000 subscribers in a December 2016 supplement to the Bio Process International publication. Institute Director Dr. Ruben Carbonell gave a keynote lecture at the International Society of Pharmaceutical Engineers (ISPE) in San Francisco in the fall of 2016 that led to another partnership between BTEC and the ISPE journal Pharmaceutical Engineering. Dr. Carbonell leads the strategic implementation of the BBDC program in partnership with BTEC.