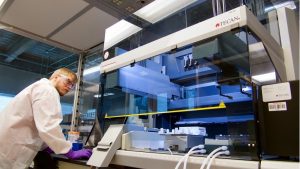 State funds allocated to BTEC are aimed to support its educational and training programs, which are based on hands-on instructions in state-of-the-art facilities. The BBDC funding provided by the Kenan Institute is helping BTEC staff, graduate and postdoctoral students participate in industry analytical and process development projects, which are not funded by the State.
BTEC provides matching funds in the amount of $2 million in facilities for this effort. In addition, BTEC is providing leverage in the amount of $180,000 per year in staff salaries to support the analytical and process services program. BTEC is on track to complete bioprocess and analytical services projects totaling approximately $400,000. In addition, BTEC is on the third year of a grant for $350,000 from a textile company to develop novel nonwoven membranes for separations and a one-year grant from a resin company to develop new ligands for purification of proteins from plasma for $125,000.
The capabilities provided by the BBDC also enabled BTEC to succeed in getting three major grants from the National Institute for Innovation in Manufacturing Biopharmaceuticals (NIIMBL). One of these, the SPIDER Network for Automation, Control and Data Acquisition, will develop a platform for training on process analysis and control that includes the Univ. of Maryland and Worcester Polytechnic Institute. The second project will enable a platform for making Viral Vectors for Gene Therapy and will be focused on the production of Adeno-Associated Virus (AAV). The third grant is to establish a Center of Excellence for Single-Use Devices, an area of great interest to the industry, and in which BTEC has played a leading role.
In addition to these three grants in which BTEC is the lead, there are six other grants in which BTEC is a partner. These include the following: Identification, Characterization and Removal of Host Cell Proteins, led by Dr. Stefano Menegatti, Next Generation Sequencing Internal Controls for Adventitious Agent Detection (with AccuGenomics), Novel Dehydration Technology for Drug Substance Preservation (Lindy Biosciences), Lyophilization Online Course, Development of Microchip CE-HPMS Analyzer for Bioreactor Monitoring, and Biopharmaceutical Manufacturing for the FDA.  All these grants have significant matching funds from the State of North Carolina and from NC State University, and in total will bring over $3.84 million in salaries, equipment and supplies to BTEC operations and NC State. BTEC responded quickly to the COVID-19 pandemic by large quantities of FDA-approved hand sanitizer that is being used throughout the university as well as the NC Museum of Natural Sciences.