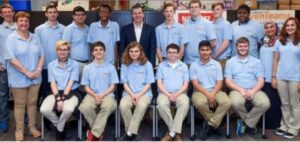 Led by Joann Blumenfeld, a Kenan Fellow Alumnus, Catalyst is a high school program at NC State's Science House designed for students with disabilities to motivate and prepare them to enter post-secondary educational training programs and careers in STEM. Catalyst achieves this goal by providing participants with hands-on STEM activities, job exploration counseling, work-based learning experiences, mentors, field trips to STEM research labs and businesses, and counseling on postsecondary education and training options. Students attend free weeklong summer institutes and Saturday sessions throughout the school year, including a paid STEM Internship.
Internships are work-based learning experiences with NC State Professors, Fidelity, SAS, National Institute for Environmental Health, North Carolina Natural Science Museum, NASA, Los Alamos National Lab, Boeing, and others. In FY 2022-23, Catalyst is offering internships with NASA staff on various topics, including robotics, drones, algorithms, humans in space, and others. The purpose of this project is to create a yearlong program in aerospace engineering that culminates in a trip to NASA (April 6-9, 2023) including a visit with Tracy Minish, who is visually impaired and currently a Mission Control Flight Center Manager for NASA, tour NASA training and lab facilities, and learn more about STEM Careers offered through NASA.
This project will serve 36 high school students with disabilities. Students will be recruited from Wake County and surrounding areas although any student can participate. The Catalyst program currently has participants from eastern and western North Carolina with 50% from underrepresented communities, 75% with some form of Autism, 25% female, and the majority from low–income families. The program and students have received recognition from President Barack Obama, Governor Pat McCrory, Governor Roy Cooper, Senator Thom Tills, Temple Grandin, and others. Catalyst was awarded the Program of Excellence Award in 2021 by the International Technology and Engineering Educators Association. KIETS support would leverage resources from NASA, NC Space Grant, Rossi Fund, College of Sciences, and NC Vocational Rehabilitation.