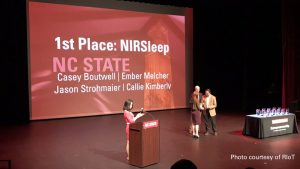 The Daugherty Centennial Campus Entrepreneurship Initiative, named in honor of Mr. Richard L. Daugherty, Retired Vice President of IBM and current Kenan Institute trustee, supports the enhancement of the entrepreneurial environment on Centennial Campus at NC State University. This provides early-stage capital necessary for NC State based startup companies to launch, engage the region's entrepreneurship, ecosystem, and leverage state and federal sources of capital to grow their enterprise and commercialize their licensed technology. The 2020 Daugherty Initiative track at the Lulu eGames supported three prizes ranging from $10,000 to $25,000 and took place on April 15, 2020.
The 2020 Daugherty Initiative awardees are as follows:
1st place – $25,000 – Photocide Protection: Environmentally friendly products that can disinfect a wide range of pathogens.
2nd Place – $15,000 – Vector Textiles: Fabrics designed to prevent mosquito es from getting through to your skin.
3rd Place – $10,000 – Stitch Partners: Smoke remediation technology for use in confined spaces where venting is not an option.
Since 2008, the Daugherty Initiative has invested $408,847 in 39 companies and 2 research projects with 29 of the companies (74%) still in business. Cumulative follow-on funding received by the awardees since 2008 is approximately $37 million.