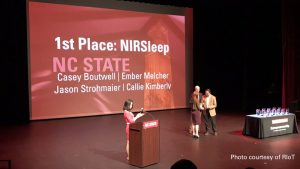 The Daugherty Centennial Campus Entrepreneurship Initiative, named in honor of Mr. Richard L. Daugherty, Retired Vice President of IBM and current Kenan Institute trustee, supports the enhancement of the entrepreneurial environment on Centennial Campus at NC State University. This provides early-stage capital necessary for NC State based startup companies to launch, engage the region's entrepreneurship, ecosystem, and leverage state and federal sources of capital to grow their enterprise and commercialize their licensed technology. Of the 17 NC State startups that applied, 10 were selected for final review and 5 made it to the final pitch round. The 2019 Daugherty Initiative track at the Lulu eGames supported three prizes ranging from $10,000 to $25,000 and took place on April 3, 2019.
The 2019 Daugherty Initiative awardees are as follows:
1st, $25,000: NIRSleep | NIRSleep is a more accurate and native method to measure sleep to enable better care and outcomes.
2nd, $15,000: Synoxa Sciences | Synoxa Sciences is providing novel, effective antibiotic treatments for patients suffering from serious multi-drug resistant bacterial infections.
3rd, $10,000: INDTI | INDTI is developing new nondestructive testing (NDT) technology to estimate the depth of embedded pile foundations to help the state departments of transportation ensure the safety of aging bridge infrastructure.
Since 2008, the Daugherty Initiative has invested $308,847 in 36 companies and 2 research projects with 25 of the companies (69%) still in business. 2018 Daugherty Initiative awardees Vital Flow and Nexus reported approximately $610,000 in additional support through angel investments and strategic partnerships. KIETS Director Ruben Carbonell and Associate Director Raj Narayan served on the Daugherty Initiative Governance and Selection Committee.