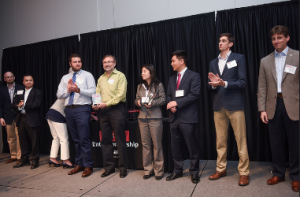 The Daugherty Centennial Campus Entrepreneurship Initiative, named in honor of Mr. Richard L. Daugherty, Retired Vice President of IBM and current Kenan Institute trustee, supports the enhancement of the entrepreneurial environment on Centennial Campus at NC State University. This provides early-stage capital necessary for NC State based startup companies to launch, engage the region's entrepreneurship, ecosystem, and leverage state and federal sources of capital to grow their enterprise and commercialize their licensed technology.
For 2016, the Daugherty Initiative received an exception to its endowment spending allowance increasing the available matching funds for the program to $25,000 and requested matching support from the Kenan Institute in the same amount. The Daugherty Initiative partnered with the NC State Entrepreneurship Initiative to feature the selection of the Daugherty Initiative recipients as part of the 2016 Entrepreneurship Lulu eGames in April 2016. 36 companies were eligible to apply, 17 companies applied for support and, from the 17, 11 companies were new startups launched in 2016.
Five companies were selected as finalists with the following awardees: 1st Place: Smart Material Solutions; 2nd Place: RiboWiz & Third Floor Materials; 3rd Place: Custom Nano & Insight Finder, Inc. Smart Material Solutions indicated that this support helped them receive additional NSF Funding and private investment. Third Floor Materials indicated that as a result of this support they were able to successfully raise private investment and also secure a DARPA seed grant.  The 2017 Daugherty Initiative track at the Lulu eGames supported three prizes ranging from $10,000 to $25,000 and took place on April 20, 2017 with over 350 attendees.
The 2017 Daugherty Initiative awardees are as follows:
1ST PLACE – $25,000 | LUMEOVA – Lumeova is developing an ultra-fast wireless communications product to speed up mobile connectivity speeds by 10X.
2ND PLACE – $15,000 | BRESTEM – BreStem is a venture with first-in-class lung stem cell therapy for pulmonary fibrosis.
3RD PLACE – $15,000 | INSIGHT FINDER – Insight Finder provides predictive analytics services that deliver insights in real time.