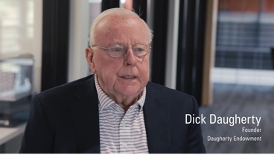 The Daugherty Centennial Campus Entrepreneurship Initiative, named in honor of Mr. Richard L. Daugherty, Retired Vice President of IBM and current Kenan Institute trustee, and his wife Marlene Daugherty, supports the enhancement of the entrepreneurial environment on Centennial Campus at NC State University. This provides early-stage capital necessary for NC State based startup companies to launch, engage the region's entrepreneurship, ecosystem, and leverage state and federal sources of capital to grow their enterprise and commercialize their licensed technology.
The 2022 Daugherty Initiative track at the NC State eGames supported three awards including two first place winners and took place on April 18, 2022. The 2022 Daugherty Initiative awardees are as follows:
1st Place – $25,000 Vizma Life Sciences is developing next-generation, low-cost molecular imaging as an alternative to existing medical imaging technologies to deliver unprecedented diagnostic power that is safer and more convenient.
2nd Place – $15,000 – Mammae Biosciences is working to commercialize a cost-effective and scalable method for producing LacNAc, a key probiotic and beneficial, health-promoting human milk oligosaccharide (HMO), to meet the growing consumer demand for foods containing HMOs.
3rd Place – $10,000 – DNAli Data Technologies is developing an end-to-end DNA data storage platform to enable long lasting and eternally relevant data storage that is also sustainable and environmentally friendly.
Since 2008, the Daugherty Initiative has invested $468,000 in 45 companies with 73% of the companies still in business. Cumulative follow-on funding received by the awardees since 2008 is over $39 million. The Daugherty Initiative is managed by the NC State Office of Partnerships.