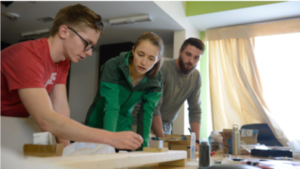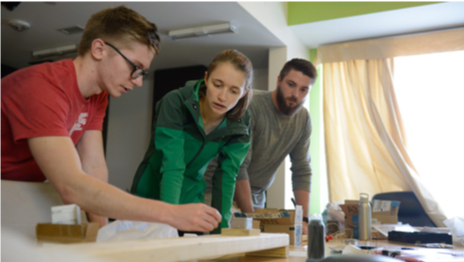 The Entrepreneurs Living and Learning Village, a program of the NC State Entrepreneurship Initiative (EI) led by Dr. Tom Miller, provides an immersive, experiential learning environment for NC State students with entrepreneurial aspirations from all disciplines and backgrounds. The Entrepreneurs Village is the first named village at NC State due to a generous gift from Andy and Jane Albright.
The 2017-18 cohort in the Albright Entrepreneurs Village (AEV) has shown continued growth, with 68 living and learning village residents (an 84% increase year-over-year) with a diverse population that represents the Colleges of Engineering, Humanities and Social Sciences, Textiles, Agriculture and Life Sciences, Poole College of Management and the Graduate School. The group maintained a population of sophomores through graduate students and a blend of international and domestic students — 33% of whom are female residents — with a variety of interests to stimulate discussion and help to build interdisciplinary teams.
Companies involved with students in the AEV this year include the following: Kast Clothing, Rythcor, Groundwork Labs, The Finance Bar, District C, IBM, Github, Duke Center for Advanced Hindsight, Smashing Boxes, Transloc, Kidz Notes, TS Designs, Saxapahaw General Store, MATH Venture Partners, 4degrees AI, Golden Girl / Glowout, mHUB, Neopenda, Pritzker Group, MATTER, 501 Strategy, Cofounders Capital / Labs, La Farm Bakery, Chatham Street Commercial, Bond Brothers, Pendo, Keen Decision Systems, Broadvine, and Autodesk. Students also participated in the New York City and Silicon Valley trips with NC State Entrepreneurship, which included visits such as Apple, Google, and Facebook.
In addition to the Albright Entrepreneurs Village, KIETS resources have also helped support the continued efforts of the EI Fellows Program. The EI Fellows Program exists to support students who have started ventures and plan to grow those ventures in the year after graduation. To combat instances of venture failure due to insufficient funding and support after graduation, recent graduates receive a monthly stipend and continued access to NC State EI resources such as the Garage and training workshops.
The 2017-18 Fellows were Sam Eddy, Zachary Hannum and Luke Smith of Kast Clothing and Travis Murray of Rhythcor. Both ventures were selected to participate in the Andrews Accelerator Program, with Rhythcor receiving additional funding through the Accelerator grant program. Rhythcor also won first prize at the NC State Alumni Entrepreneurs first annual showcase in May. Due to the success of this program, several former students of Dr. Tom Miller endowed the fellowship program in September 2017, thus renaming it the Thomas K. Miller III Fellowship Program. In April 2018, former EI Fellow Leigh Kathryn Bonner, CEO of Bee Downtown was selected by Inc. Magazine as one of their top "30 under 30" entrepreneurs. KIETS Associate Director Raj Narayan served as a mentor for Leigh Kathryn Bonner during her EI fellowship period in 2015-16 and continues to provide strategic guidance.