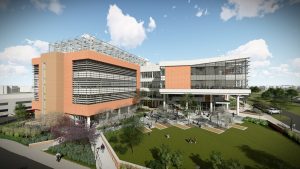 The GRIP4PSI initiative will enable the NC State community to collaborate on integrated research/outreach projects that are focused on plant improvement, data-driven agricultural bioscience, and resilient agricultural systems.  This program is intended to seed, incentivize and amplify visionary research that will result in a high return on investment in terms of extramural funding, award-winning research impacts, and first-class interdisciplinary graduate education and training.
In response to the RFP, the GRIP4PSI initiative received 20 pre-planning proposals involving nine colleges, 36 departments, and 185 faculty from across the university. Four proposals have been selected for funding. These projects will have the opportunity to utilize space in the new PSI building that will be located on Centennial Campus.
The four awards, each worth up to $650,000 over three and a half years, were the result of a collaborative effort led by the Office of Research and Innovation in partnership with the College of Agriculture and Life Sciences, the College of Engineering, the College of Natural Resources, the College of Sciences, Wilson College of Textiles, Poole College of Management, the Office of the Executive Vice Chancellor and Provost, and the Kenan Institute for Engineering, Technology and Science. The GRIP4PSI projects awarded are as follows and funding began in July 2020:
Dr. Christine Hawkes, Department of Plant and Microbial Biology, FUN-CROPS: Foliar Fungal Endophytes for Enhanced Crop Sustainability and Resilience;
Dr. Jean Ristaino, William Neal Reynolds Distinguished Professor and Director of Emerging Plant Disease, Department of Plant and Microbial Biology, Plant-Aid: A Data-Driven and Sensor-Integrated Platform for Monitoring Emerging Plant Diseases;
Dr. Katharina Stapelmann, Department of Nuclear Engineering, Harnessing (Bio-) Electrochemical Technologies as Sustainable Sources for On-Demand Precision Agriculture;
Dr. Cranos Williams, Department of Electrical and Computer Engineering, Improving Crop Productivity and Value Through Heterogeneous Data Integration, Analytics, and Decision Support Platforms.