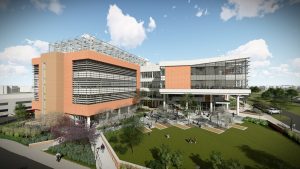 The NC Plant Science Initiative (PSI) at NC State is envisioned to be a world-class transdisciplinary research initiative that will facilitate the convergence of research and development of innovative discovery tools across a wide spectrum of disciplines including plant sciences, engineering, economics, modeling, and data analytics. It is the vision of the PSI that a productive and effective research and technology agenda will be the result of a portfolio of projects that are complex, highly integrated, driven by data and informatics, and that result in sustainable food and agricultural systems that are predictive and proactive.
The new GRIP4PSI initiative will enable the NC State community to collaborate on integrated research/outreach projects that are focused on one or more of the Research Platforms that comprise the NC PSI and include the following:
Plant Improvement
Data-Driven Agricultural Bioscience
Resilient Agricultural Systems.
NC State anticipates that GRIP4PSI project teams will span multiple colleges at NC State, including external partners, develop from the full range of technical capabilities at NC State and beyond, and will boast world-class junior and senior faculty with clear potential for sustained success. Process learnings and research results from successful project teams should be game-changing for North Carolina's agricultural needs as well as national and global agricultural challenges.
Funding for GRIP4PSI would be leveraged with support from the Office of Research and Innovation (ORI), the Provost's Office, KIETS, and the NC State Colleges of Agriculture and Life Sciences (CALS), Engineering (COE), Natural Resources (CNR), Sciences (COS), Management (PCOM) and Textiles (WCOT). This program is intended to seed, incentivize and amplify visionary research that will result in a high return on investment in terms of extramural funding, award-winning research impacts, and first-class interdisciplinary graduate education and training.
In response to the RFP, the GRIP4PSI initiative received 20 pre-planning proposals in March 2019 of which 8 full proposals are currently under final review for an award start date of January 2020. Successful projects would have the opportunity to utilize space in the new PSI building that will be located on Centennial Campus.