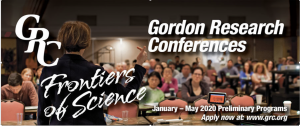 A Gordon-Kenan Graduate Research Seminar (GKRS) is a two-day meeting designed specifically for graduate students, post-doctoral students, and other scientists with comparable levels of experience. The GKRS are particularly important because they allow the next generation of scientific explorers to network and discuss their research at a critical time in their budding careers.
The Kenan Institute supports approximately 16 brand new GKRS annually. A total of 559 attendees participated in 12 Gordon-Kenan Research Seminars from July 1, 2018 to March 31, 2019. The majority of attendees were young investigators – 51% graduate students and 32% post-doctoral students. North Carolina was represented at the seminars with 4 participants from UNC-CH and 8 participants from Duke University.
Since 2001, Kenan Institute support has provided seed funding for 181 new Gordon-Kenan Research Seminars, helped leverage $9,213,617 from private & federal sources, and helped provide registration and travel support for 3,640 GKRS registrants, roughly 44% of all GKRS participants. From 2001 to 2018, GKRS/GRC Chairs have raised $3,397,162 from federal funding and $5,816,455 million from private industry partners.
During that time, 4,336 scientists from North Carolina have attended 2,878 GRC conferences or seminars.  In addition, NC State University scientists have participated as a speaker 260 times, and have chaired 16 GRC conferences or seminars. In partnership with the NC State Office of Research Innovation and Office of the Provost, the Kenan Institute is planning to host GRC Director Dr. Nancy Gray to visit NC State where she will present a seminar "Power Hour" focused on enhancing the participation of women in engineering, technology, and science.