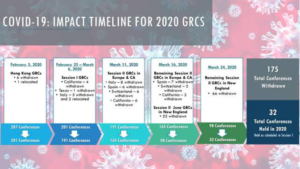 A Gordon-Kenan Graduate Research Seminar (GKRS) is a two-day meeting designed specifically for graduate students, post-doctoral students, and other scientists with comparable levels of experience. The Kenan Institute supports approximately 16 brand new GKRS annually. A total of 409 attendees participated in eight Gordon-Kenan Research Seminars from July 1, 2019 to March 31, 2020. The majority of attendees were young investigators – 52% graduate students and 38% post-doctoral students. North Carolina was represented at the seminars with two speakers and one participant from UNC-Chapel Hill and two speakers and three participants from Duke University.
Due to the COVID-19 pandemic, the GRC team launched GRC Connects in August 2020. GRC Connects is a virtual initiative that provides opportunities to connect and collaborate with GRC colleagues until in-person meetings resume. Topics such as the academia/industry response to the COVID-19 pandemic (expert panel), navigating your career (GKGRS mentorship panel for graduate students and post docs), and improving equality and inclusion (GRC Power Hour) are offered. In addition, the GRC is developing a plan to resume the 2021 conference season in May 2021 and operate through August 2021 in the U.S. and Europe only.
Since 2001, Kenan Institute support has provided seed funding for 181 new Gordon-Kenan Research Seminars, helped leverage $9,213,617 from private & federal sources, and helped provide registration and travel support for 3,640 GKRS registrants, roughly 44% of all GKRS participants. From 2001 to 2018, GKRS/GRC Chairs have raised $3,397,162 from federal funding and $5,816,455 million from private industry partners. During that time, 4,336 scientists from North Carolina have attended 2,878 GRC conferences or seminars. In addition, NC State University scientists have participated as a speaker 260 times, and have chaired 16 GRC conferences or seminars.