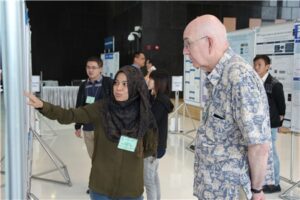 A Gordon-Kenan Graduate Research Seminar (GKGRS) is a two-day meeting designed specifically for graduate students, post-doctoral students, and other scientists with comparable levels of experience. More than 80% of Gordon Research Conferences now have a corresponding Gordon Research Seminar.
The Kenan Institute supports approximately 16 brand new GKGRS annually. The GRC had originally planned to resume the 2021 conference season in May 2021 and operate through August 2021 in the U.S. and Europe. However, with the enduring effects of the pandemic, the GRC decided to postpone its summer conferences and resume operations with a subset of three conferences and related Graduate Research Seminars that took place in the Fall of 2021.
The Spring 2022 conference season resumed with 10 New GKGRS scheduled to be held through June 30, 2022. Since 2001, Kenan Institute support has provided seed funding for 200 new Gordon-Kenan Research Seminars, helped leverage $10,470,671 from private & federal sources, and helped provide registration and travel support for 4,074 GKRS registrants, roughly 44% of all GKRS participants.
From 2001 to 2021, GKRS/GRC Chairs have raised $3,682,428 from federal funding and $6,788,243 from private industry partners. During that time, 4,365 scientists from North Carolina have attended 2,968 GRC conferences or seminars. In addition, NC State University scientists have participated as a speaker 279 times, and have chaired 17 GRC conferences or seminars.