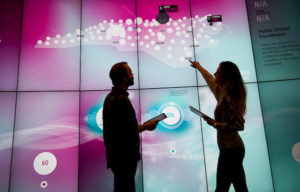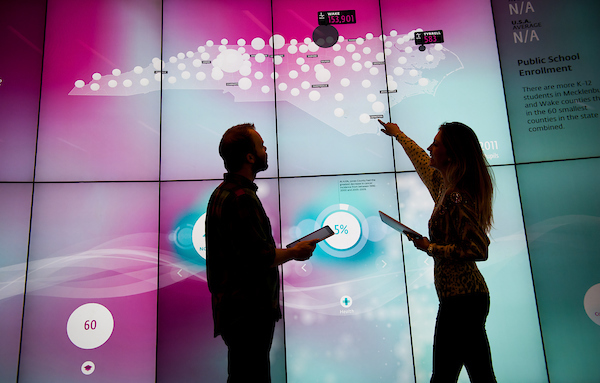 The purpose of the Institute for Emerging Issues (IEI) Faculty Fellows Program is to allow IEI to collaborate with faculty (and students under their guidance) across colleges at NC State University, so that faculty and students may advance their own research/training interests and IEI can increase its contributions to NC State's ongoing collaborative economic development mission.
The following projects are currently in progress:
Emerging Issues Commons
(1 faculty member, 7 students)
Prof. Ben Watson (Dept. of Computer Science) and a graduate student explored the feasibility of reprogramming elements of IEI's Emerging Issues Commons to support new types of data visualizations on the large Connections Wall and tables in the Hunt Library. Watson has a research project to improve the use of data visualization to increase public engagement in scientific issues of societal importance and IEI is examining how to "open up" the Connections Wall to allow other types of information and graphics to be displayed beyond the closed system in existence. In their report, Dr. Watson and his graduate student advised that IEI consider adopting an open source software approach that students in Computer Science could build and maintain over time, along with the replacement of specific pieces of hardware. IEI is also engaging a team of six graduate students from Dr. Watson's spring 2018 "user experience" computer engineering class to prototype different ideas for engaging users with this new hardware and software in the Commons.
Text, Talk, Future
(1 faculty member, 3 students)
IEI's Text, Talk, Future (TTF) initiative is creating a texting-based platform that facilitates small, peer-to-peer conversations involving early stage high school students talking about their future career plans. Embedded in the facilitated dialogue are two short videos, produced by three NC State students under the direction of Sarah Stein (Department of Communications). The first, featuring students from Southeast Raleigh Magnet High School, appears at the beginning and demonstrates how the platform works. The second, in the middle of the facilitated conversation, illustrates the diverse educational and career path stories of four North Carolinians. Following the completion of the complete script in fall 2017, IEI engaged a VISTA service member to manage this program. In December 2017, IEI began piloting a soft launch throughout the state, working first with high school guidance counselors to figure out where and how this conversation fits best with their mandated curriculum around career counseling.
Reconnect NC
(1 student; multiple faculty and students TBD)
IEI will soon announce a new, three-year, six Forum series built around feedback from communities and people across the state, identifying disconnection as one of the major challenges facing our state and its people. The "Reconnect North Carolina" initiative thematically links a group of challenges, such as "community engagement," "the rural-urban divide" and "economic inequality." IEI recently engaged Blake Martin, a PhD student (Sociology) with teaching and research expertise around the Fall 2018 Forum topic of civic engagement. Blake is helping IEI conceptualize and measure the state of civic connectedness in North Carolina, including a possible update to IEI's 2015 Civic Health Index. The initiative will feature a Steering Committee of notable experts from across the state providing key input into the entire series, as well as a "faculty lead" for each individual Forum. IEI anticipates engaging multiple NC State faculty members, including Dr. Mike Walden (Agricultural and Resource Economics) and is considering a public opinion polling element, which could re-engage Dr. Mike Cobb (Political Science), a 2008 IEI Faculty Fellow.
KidsReadyNC
In spring 2018, IEI launched KidsReadyNC as part of its follow up work after the 2018 Kidonomics Forum. This 18-month initiative will engage four NC communities as they seek to strengthen their early childhood development systems. As communities are selected and their specific needs identified, IEI will look for opportunities to bring NC State expertise into this project. As with lnnovate NC, one opportunity is likely to be helping these communities visualize data in ways that effectively communicate to community stakeholders and external funders the importance of early childhood development.