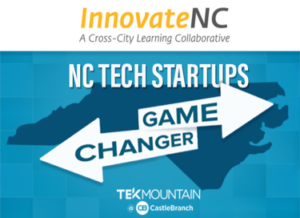 With initial support from the Kenan Creative Collaboratory, Innovate NC was established to:
Increase innovation capacity, activity, and connectivity in currently under-served communities in North Carolina (especially rural/ micropolitan communities and under-connected metro areas);
Broaden the demographic and sectoral diversity of those engaged in the innovation economy;
Strengthen collaborative cross-city learning and partnerships;
Grow visibility and financial support for place-based innovation efforts, and
Develop a model that other communities across the state and other states across the nation could learn from.
Through an RFP process, 18 communities applied to be part of InnovateNC and five were selected: Wilmington, Pembroke, Wilson, Greensboro, and Asheville. While substantial progress has been made in each of the five participating communities and significant resources have been developed to help communities accelerate their transition to the innovation economy including a comprehensive community-building toolkit, the work is just beginning.
This includes deepening the work in the original five communities, expanding these efforts to other micropolitan and under-connected metro areas across the state, strengthening opportunities for connection and collaboration between communities, and elevating North Carolina's overall innovation.
In January 2018, the management of Innovate NC transitioned to the NC Office of Science, Technology & Innovation in partnership with Forward Cities, a national 501c (3) learning collaborative headquartered in Durham and Innovate NC 2.0 is currently underway. To build on this momentum, five activities are being developed for this next phase of work:
Strengthening and sustaining a state-wide learning platform & communications plan;
Developing an annual convening strategy for interested North Carolina communities and stakeholders outside of the state;
Fostering strategic capacity building support for communities beyond the original five communities as well as ongoing engagement among the original five;
Strengthening local and statewide policy support for these efforts including helping city/county governments to evaluate and implement appropriate municipal policy tools for strengthening their local innovation ecosystem. These efforts also include helping North Carolina establish a Community Innovation Fund – a proposed state-wide competitive grant process out of the North Carolina Department of Commerce to help communities implement plans to bolster their local innovation economy; and
Working with research partners to evaluate the medium and long-term impact of this work on local economies and communities and codifying lessons learned from the work.
Ten partners were part of the first phase of Innovate NC, and many of them will support this continued effort including RTI International as a research partner, the UNC System to support data work, UNC-TV for local story-telling (building off the five-part InnovateNC TV series that aired in Fall 2017), the Institute for Emerging Issues as a content and convening partner, and Duke University's School of Public Policy to support policy work.
Additionally, Innovate NC 2.0 is being supported by the Kenan Charitable Trust and is pursuing support from other foundations and government agencies. Furthermore, the Community Innovation Fund, a community development block grant program, is being developed to enable communities to put their local innovation ecosystem building plans into action. KIETS Associate Director served on the Innovate NC partnership advisory group and facilitated an opportunity for Innovate NC to present at the October 12 and 13, 2017 MIT Innovation Ecosystem Symposium in Boston, MA.