2017-18 Kenan Fellows
Application and Selection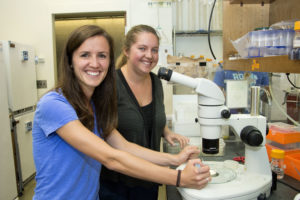 The cohort of 2017-18 Kenan Fellows was chosen through a competitive application process from 122 applications submitted from 36 school districts. The 27 Fellows selected from this group represent 10 North Carolina counties, one of which (Wilson) is new to the program. Seven of the Fellows comprise the Charlotte-Mecklenburg Schools (CMS) Teacher Leader Cluster (TLC), a program in which the educators collaborate with each other and district leaders to address a system-wide need.
Projects and Partners
The Fellows in the 2017-18 cohort completed at least 120 hours in their research or industry internships, 80 hours of professional development, and designed and implemented their fellowship projects. Download a list of Fellows, mentors, and partners.
A summary of projects and partners follows:
Five Kenan Fellows completed the project, Developing the State of Ag, which was funded through grants from the US Department of Agriculture and three county North Carolina Farm Bureaus — Carteret, Surry, and Alamance. The Fellows interned with their local Farm Bureaus and spent a week in Raleigh in the lab of Dr. Matt Koci of NC State and with researchers at Bayer Crop Science.
7 fellowships were included as part of the Teacher Leader Cluster (TLC) — supported by Charlotte Mecklenburg Schools (CMS) and the Belk Foundation. Internship sites included Carowinds, Hyde-Park Partners, Siemens, Bosh Rexroth, and Google Fiber. Selected from a group of STEM magnet elementary schools, these Fellows developed co-curricular activities based on their internship experiences; these are currently being disseminated to their schools, then to other schools through district-wide professional development events. A total of 2,688 students are enrolled in the four schools involved in the 2017-18 CMS TLC.
15 additional fellowships were supported by community and corporate foundations, university faculty grants, and nonprofits. Included among the funding partners are the following: Biogen Foundation, KIETS, GSK, NC State University, UNC-Chapel Hill, Goodnight Educational Foundation, IBM, Google Fiber, Merck Foundation, Wilson Farm Bureau, Four-County EMC and NC Electric Membership Cooperatives, Ply Gem, SAMSI, and Syngenta.
Teacher Leader Influence
Kenan Fellows report activities which show the positive influence they are having on students, teachers, and other key stakeholders during their fellowship year. Download the 2017-18 Fact Sheet to learn more.