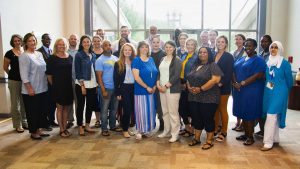 2019-20 cohort of Kenan Fellows
Application and Selection
The 2019-20 cohort of Kenan Fellows was chosen through a competitive process from 85 applications submitted from schools in 28 North Carolina counties. Twenty-seven teachers were awarded fellowships. Those selected represent 15 school districts, one charter school, and two UNC system schools: the North Carolina School for Science and Mathematics (NCSSM) and the Catamount School, which is Western Carolina University's Lab School. Five of the Fellows work in counties that are new to the program: Clay, Edgecombe, Jackson, Polk, and McDowell.
Demographics
19 of the 27 Fellows (70%) teach in Title 1 Schools
17 Female, 10 Male
9 were certified through a lateral entry program
11 Rural, 6 Urban, 10 Mixed
Projects and Partners
The KFP appreciates generous support at the Platinum level from the Biogen Foundation, GSK, KIETS, the Appalachian Regional Commission (ARC), and NC State. These larger gifts, grants, and appropriations cut across multiple fellowships. They allow the KFP to work more strategically within a region and provide a rich and robust professional development program. A complete list of the universities, industries, and foundations that provide support for the KFP through funding and/or hosting/mentoring Fellows can be found at kenanfellows.org/donors and kenanfellows.org/mentors.
A summary of projects and partners follows:
A grant from the Appalachian Regional Commission (ARC) is supporting six Fellows in western NC, as part of the WNC STEMwork project. Industry mentors include the following: Team Industries-Cherokee County, TekTone-Macon County, Gaia Herbs-Transylvania County, GE Aviation-Buncombe County, Eaton Corporation-Rutherford County, and Coats America-McDowell County.
Charlotte Mecklenburg Schools, the Belk Foundation, and Duke Energy are supporting four Fellows who comprise the CMS Teacher Leader Cluster (TLC). Industry mentors for the four include the following: Bosch Rexroth, Siemens, Carowinds, and Hyde Park Partners.
Four fellowships are supported through grant funding obtained by University faculty/mentors: Drs. Amy and Paul Maddox (UNC), Dr. Alex Nevzorov (NC State), and Dr. David Muddiman (NC State).
GSK is providing generous support for five Fellows in the RTP area. These Fellows were mentored by Holt Brothers Construction, Mertek Solutions, LORD Corporation, EPA, and Novozymes. Mertek also provided some financial support for the Fellowship they hosted.
With generous support from the KIETS Board of Trustees and the KFP Board of Advisors, one Fellowship in the 2019-20 cohort was designed to target the under-represented and high-need area of Eastern North Carolina. After a highly competitive recruitment process, Sheronica Sharp of Edgecombe County Public Schools was selected to receive the Phail Wynn Kenan Fellowship. Sheronica teaches at Coker-Wimberly Elementary School and completed her three-week internship with Keihin Carolina System Technology, LLC.
Seven additional fellowships are supported by community and corporate foundations including Fidelity Investments, the Burroughs Wellcome Fund, the North Carolina Farm Bureau, the Goodnight Educational Foundation, NC's Electric Cooperatives, Merck Foundation, Cornerstone Building Brands, Wayne County Farm Bureau, NC Pork Council, Union Power Electric Cooperative, and SAMSI. Many of these organizations/industries also hosted Fellows during their internship experiences. Additional mentorship support was provided by WE ARE and NC State's Office of Institutional Equity and Diversity.
Teacher Leader Influence
Impact of the 2019-20 Cohort to Date
The NC State Friday Institute conducts the KFP annual program evaluation. Results for the 2019-20 program will be available in July 2020 in the form of a formal report and executive summary. In addition to this external evaluation, the KFP gathers data regarding the impact that the current cohort of Fellows is having on students, teachers, and other key stakeholders. The impact data reported here reflect activities that occurred between June 2019 – September 2019. Thus far, each Fellow has completed 40 hours of professional development and a three-week internship with their business/industry or university mentor (at least 160 hours of work per Fellow). In addition, the impact log reflects the following activities since they began the Fellowship in June:
5 have received press/media recognition
3 have received awards or grants
2 have been assigned new leadership roles
1 Fellow has already implemented new lessons with 35 students
5 Fellows have made presentations or conducted community events reaching 10 K-12 students, 99 K-12 educators, and 50 community members
11 Fellows have made visits to industries and labs beyond the internship (5 locations)
1 mentor visited a class of 17 students via videoconference
New Kenan Fellows Program Initiative: STEMwork
In early 2018, the KFP began developing a new initiative called STEMwork, which is designed to utilize the leadership capacity of the Kenan Fellows Alumni Network to reach thousands more teachers across the state and guide them in their efforts to bridge STEM in their schools with STEM at work. STEMwork is a "blended" Professional Development Institute (PDI), meaning that some of the lessons will be provided on-line and others on-site, led by skilled Kenan Fellow alumni, and partners from local businesses and industries. Approximately 60-80 hours of work are involved and teachers should be able to complete the requirements within one year.
The STEMwork design team thus far has included the KFP Director, former Associate Director, Program Manager, Communications Manager, Activities/Data Coordinator, three KFP alums with expertise in Project Based Learning (PBL) who have provided content, and an external e-learning design professional. Design of the STEMwork online modules will be tested/reviewed by a small group of KFP alumni who can provide feedback to the design team. The STEMwork design team will be developing Facilitator Training materials in the spring of 2020 and conduct facilitator training with several small groups of alumni in the summer of 2020. This will position the KFP to pilot STEMwork in 2021.
Recent Accomplishments and Activities of KFP Alumni and Staff:
 KFP Director, Dr. Elaine Franklin was appointed as Adjunct Assistant Professor with the Department of Teacher Education and Learning Sciences in NC State's College of Education. She authored a chapter in History and Approaches to Heritage Studies, published by the University of Florida Press, 2019 and was appointed to the Advisory Board for NC State's Teaching Fellows.
KFP Associate Director, Lisa Hibler, retired on May 31, 2019. The Governor's Office honored her with The Old North State Award, which was presented to her at the KFP Celebration in April.
LaTanya Pattillo, NC Governor's Teacher Advisor helped organize and lead the 2019 DRIVE Summit: Developing a Representative and Inclusive Vision for Education.
Kimberly Mawhiney and Tomika Altman-Lewis were selected by 100Kin10 for the 2019 Teacher Forum.
Justin Jones received the Burroughs Wellcome Career Award.
Doug Price was selected as North Carolina's Charter School Teacher of the Year.
Carrie Robledo was selected as Moore County Schools Teacher of the Year.
Rachael Polmanteer delivered a keynote address with her students at the national 2019 Citizen Science Association Conference in Raleigh.
Nate Bourne is credited with naming Galagadon, a new species of prehistoric shark discovered by N.C. State University lecturer and N.C. Museum of Natural Sciences research affiliate, Terry Gates.
Emily Warnke is a recipient of the Governor's Educator Discovery Award.
Kris Gorman was awarded a $100,000 grant, as the Grand Prize Winner of the NBACares State Farm Youth Assist Tracker Challenge. The grant will be used to redesign the media space in his school, McClintock Middle.
5 KF alumni were facilitators in the Industry Learning Labs at NCBCE's emPowering STEM conference.
8 KF alumni serve on the Steering Committee to design and deliver the professional development program.
11 KFs served as FIT leaders for BEST NC's 2018 Education Innovation Lab.
Annah Riedel advocated for schools as a panel member at the 2018 Business and Education Round Table (Business NC).
Michelle Ellis, Doug Price – Ed Ambassadors for Education NC.