2022-23 Cohort: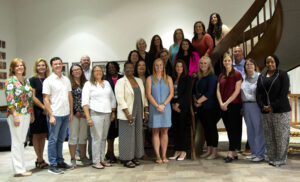 The 2022-23 cohort consists of 24 Fellows from 18 North Carolina counties; five of the counties are new to KFP: Swain, Cherokee, Beaufort, Stokes, and Randolph. Fifteen members of the new cohort teach in Title 1 (i.e., economically distressed) Schools, 21 are female, three are male and eight are lateral entry teachers. More than half of this cohort is from rural communities and the majority teach in high school or middle school; five teach at the elementary level.
The 2022-23 Fellowships were made possible through the generous support of the KFP's corporate, education, government, and foundation partners including: American Zinc Products (AZP), Biogen Foundation, Burroughs Wellcome Fund, Charlotte-Mecklenburg Schools, Duke Energy, Dogwood Health Trust, Goodnight Educational Foundation, Kenan Institute for Engineering, Technology & Science, North Carolina Department of Public Instruction, North Carolina's Electric Cooperatives and Randolph EMC, North Carolina Farm Bureau and Stokes County Farm Bureau, NC State University, Meta, and an NSF grant to Dr. Toshi Hige of UNC-Chapel Hill. A complete list of the universities, industries, and foundations that provide support for the KFP through funding and/or hosting/mentoring Fellows can be found at https://kenanfellows.org/partners/ and  https://kenanfellows.org/mentors/
Impact of the 2022-2023 Cohort
The NC State Friday Institute conducts annual program evaluation for KFP. Results for the 2022-2023 program will be released in July 2023 in the form of a formal report and executive summary. The executive summary will be available upon request. In addition to this external evaluation, the KFP gathers data regarding the impact that the current cohort of Fellows is having on students, teachers, and other key stakeholders. At the close of the Fellowship year in May, each Fellow had completed 80 hours of professional development and a three-week internship with their business/industry or university mentor. In addition, the KFP impact log reflects the following activities since the cohort began their Fellowships in June 2022. Note, this data is reported by 21 of the 24 Fellows. Three responses were not received.
Over 4,300 students impacted
1,250 other educators impacted
8 state and regional presentations given to more than 500 attendees
$40,000 in grant funding secured
3 Teacher of the Year award recipients
Dorothy Holley and Annie McEntyre are Semifinalists for the Albert Einstein Distinguished Educator Award
Shannon Hardy's 6th grade math students were in the top 25% statewide for student academic growth
Articles:
2023-24 Cohort: 
With the 2023-2024 cohort, KFP has expanded the number of Fellows served from 24 to 38. Much of the expansion in the number of educators served is a product of new partnerships with statewide initiatives including the STEPS4Growth Initiative (8 Fellows) and SparkNC (4 Fellows). These 38 Fellows hail from 23 North Carolina counties; three of the counties are new to KFP: Cabarrus, Gates, Halifax. Twenty-four members of the new cohort teach in Title 1 Schools, twenty-eight are female, ten are male and thirteen are lateral entry teachers. More than half of this cohort are from rural communities and the majority teach in high school or middle school; seven teach at the elementary level. This new cohort of Fellows will began their KFP experience on May 10th, 2023.
STEMwork SCHOLARS 
The 2022-2023 academic year represented the first non-pilot iteration of KFP's blended learning program, STEMwork. STEMwork is one of KFP's newer initiatives and seeks to activate the 600+ KFP alumni and engage them as facilitators for small teams of local teachers in a given county or school district. The yearlong course consists of visits to local businesses and industries and eight online asynchronous modules that guide the teachers through the process of developing Project Based Learning (PBL) units that they implement in their classrooms. The PBL units link classroom instruction to the local businesses they visited at the beginning of the course.
The 2022-2023 iteration of STEMwork continued the evolution of the program based on lessons learned from the 2021-2022 pilot year. To build a robust pool of alumni facilitators four institutes were conducted to prepare 53 alumni facilitators to work with STEMwork teams. To date, fifty-five KFP alumni have been prepared to lead STEMwork teams. Ultimately, local school districts recruited 89 teachers who formed 18 STEMwork teams distributed across four regions of the state:
Eastern: One team each from New Hanover, Craven, Duplin, Pitt, & Martin Counties;
Piedmont: One team each from Alamance-Burlington and Moore Counties, and two from Scotland County;
Charlotte: One team each from CMS and the Profound Ladies & Gentlemen organization;
Western: Two teams from Rutherford, two from McDowell, one each from Buncombe, Henderson, & Cherokee Central Schools located on the Qualla Boundary in Swain County.
During the summer of 2022, these eighteen teams participated in 34 industry site visits with 27 of KFP's industry partners. Notable site visit hosts included Siemen's Energy, Trane Technologies, Conserving Carolina, Grover Gaming, RedHat, Biltmore Farms and Bosch Rexroth. Three regional symposia where the STEMwork Scholars presented their work took place in May 2023. Of the eighteen STEMwork teams four were paid for by local school districts, two teams were supported by Meta, five teams were supported by the Dogwood Health Trust, five teams were supported by the Belle Jar Foundation and one team each was supported by John and Jane Hardin, John Atkins and Tia McLaurin.
Teams of educators for the 2023-2024 iteration of STEMwork are currently forming. In an effort to mitigate teacher attrition seen in the first two years of the program, KFP has shifted the model of teacher recruitment from districts recruiting teachers to KFP communicating the opportunity broadly to the NC education community and allowing teachers to opt into the program. Presently, three teams are being supported by individual school districts, five teams are being supported by the Dogwood Health Trust, two teams are being supported by Meta, five teams are being supported by Belle Jar and one team is being supported by John and Jane Hardin.
MOUNTAINS TO SEA SCHOLARS PROGRAM
Thanks to generous support from the Merck Foundation, in the spring of 2022 KFP developed and piloted a new line of programming dubbed Mountains to Sea Scholars (MTS). MTS leverages our statewide network of partnerships and alumni to create a semester-long experience for teachers that focuses on giving them a statewide perspective on a single topic. More specifically, through a combination of virtual and in-person visits, 25 educators – half of them KFP alumni – learned about water quality, environmental justice and the ways that these issues are similar and different in the Mountains, Piedmont, and Coastal regions. Thanks to funding from the NC Science, Mathematics and Technology (SMT) center, this programming was repeated in the Fall of 2022 with 20 teachers from the Western region of NC and two preservice teachers from the NC State College of Education. End-of-program surveys and informal conversations with participants show that MTS is a valuable vehicle for alumni re-engagement, is a robust and valuable experience for teachers, and is a strong recruiting tool for KFP's core Fellowship program. Contingent on available funding, KFP intends to maintain MTS as an annual program for the foreseeable future.
JOURNAL OF INTERDISCIPLINARY TEACHER LEADERSHIP (JOITL)
KFP published its sixth issue of JoITL in December of 2022, which included seven articles: JOITL Vol. 6, No. 1. Since the journal was founded in 2016, KFP has published articles from 18 national universities: UNC-Chapel Hill, Texas Tech University, NC State University, UNC-Greensboro, East Carolina University, University of North Texas, UNC-Charlotte, Walla Walla University, Elon University, Idaho State University, University of Washington, California State University-East Bay, UNC-Wilmington, University of Nevada-Las Vegas, Bradley University, Oklahoma State University, Western Kentucky University, and UNC-Pembroke. Articles have also been published from NASA Langley Research Center, The North Carolina Arboretum, Voyager Academy Middle School, EvalWorks L.L.C., and independent researcher, Dr. Rolf Blank. In December 2022, the journal published its first two articles from international researchers: the University of Nottingham Malaysia and Medipol Üniversitesi and Bayburt Üniversitesi in Turkey.
NOTABLE KENAN FELLOWS ALUMNI ACCOMPLISHMENTS IN 2022-2023:
Awards
Alicia Moss is one of five recipients of the Governor's Educator Discovery Award, received a Bosch Best Teacher Grant, a First Inspires Rookie Grant, and was selected for #CMSTeacherTalk 2023.
Annie McEntyre and Dorothy Holley are finalists for Einstein Fellowships.
Emily Lahr was awarded a 2022-24 NC Science Leadership Fellowship.
Joann Blumenfeld is a 2022 recipient of the Friday Medal Award, which honors significant, distinguished and enduring contributions to education.
Leslie Rhinehart of Polk County Middle School is a recipient of the 2023 North Carolina Science, Mathematics and Technology Education Center (SMT Center) Career Award for Science and Mathematics Teachers.
Lindsay Stalls, Alexandra Boyd, Tiffanni Craig, and Annie McEntyre have been selected as NC Space Education Ambassadors.
Keith Burgess was recognized by the Association of Middle Level Education for creating a classroom culture that introduces middle school students to STEM careers.
Rachel Polmanteer, director of resource development at the Center for Inquiry Based Learning, received the 2023 North Carolina Science, Mathematics and Technology Education Center (SMT Center) Outstanding K-8 Educator Award.
Tiffani Craig, Amanda Clapp, and Susan Miller-Hendrix have all been named 2022 SEED Fellows.
Tomika Altman-Lewis received the NCCAT A. Craig Phillips Honored Educator Scholarship.
Grants
Abigail Thompson has been awarded $7K in grant funding this school year to benefit her students. Granters include Wake Electric #brightideas, NC Farm Bureau "Ag in the Classroom," N.C. Farm Bureau #goinglocal Honey Bee Grant & Grandville Education Foundation.
Jean Sciacca received a $15K grant from Goodwill Industries of Eastern NC for her school, Durham Performance Learning Center.
Kimberly Mawhiney director of STEM and Grants at Northeast Academy for Aerospace and Advanced Technologies served as a lead grant writer on a $500K Golden Leaf Grant for a career center project for the school.
Susan Miller-Hendrix served as the lead on a $180,000 Student STEM Enrichment Program grant awarded by the Burroughs Wellcome Fund to the Public Schools of Robeson County.
Ursela Garvin received a $5,000 grant from Project Lead The Way for robotics in her classroom.
Will Tyson's school, Washington High, is one of 102 schools in the U.S. named a #CSLeader and awarded $10,000 to expand its computer science programs.
Media Recognition
Alicia Moss and one of her students were interviewed by Queen City News about their school's robotics program.
Dorothy Holley was featured in the American Association of Chemistry Teachers member spotlight on their website.
John McGuire was featured on ABC News13's Thanks to Teachers on-air segment.
Publications
Amanda Clapp wrote a chapter for the book "On Teaching Evolution."
Emily Lahr published three academic articles.
Kim Collazo has published a children's book that integrates STEM and literacy, "Emersyn Blake and the Spotted Salamander."
Teacher of the Year
Alicia Moss was Teacher of the Year at JM Alexander Middle School.
Danielle McCaslin is the Mills Park Middle School Teacher of the Year.
Jevar Bransome has been named Teacher of the Year for River Oaks Middle School in Wake County.
Kalyani Tawade is the Vernon Malone College & Career Academy Teacher of the Year.
Emily Lahr was named Greene Central High School Teacher of Year 2022-23.
Other Outstanding Achievements
LaTanya Pattillo was selected to serve as the chair-elect for the Board of Directors of the Public School Forum of North Carolina.
Leslie Aguirre Mouchet was selected to partner with Amgen for the implementation of ABE in the classroom.
Nichole Efird earned her certification as an Indigenous National Board Certified Teacher.
Renata Crawley and Donna Pyatt presented before the NC State Board of Education about their mobile STEM Van.