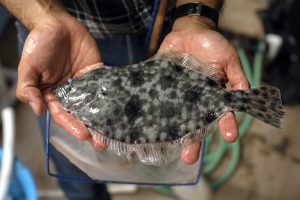 With support from the Kenan Institute, the Marine Bio-Technologies Center for Innovation (MBCOI) completed a comprehensive review of the freshwater and marine aquaculture industry in North Carolina.
The purposes of this analysis were two-fold:
To assemble current information on the status of the industry;
Prepare promotional and other marketing materials to showcase the opportunities to an audience of international business leaders and investors attending BioMarine 2015, a leading business convention in Wilmington, NC held on October 13-14, 2015 dedicated to the marine biotechnology industry.
Using information derived from North Carolina water permit applications and supplemented by other sources (e.g., company websites and personal contacts), MBCOI created a database of 399 entities identified across North Carolina's aquaculture industry. In preparation for marketing NC's aquaculture assets at the international 2015 BioMarine Business convention, SWOT analyses for the 12 top species/sub-sectors as well 30 preliminary corporate profile marketing sheets were created. Armed with the portfolio assessment, MBCOI arranged for 30 formal 1:1 partnering meetings and extensive networking activities at the international 2015 BioMarine Business Convention which attracted more than 200 top executives from industry, investment and research organizations in aquaculture-related and other marine biotechnology sectors from 19 countries.
As a direct result of MBCOI's promotional efforts, representatives from Canada, Scotland, and Saudi Arabia toured key research institutions in Carteret County as well as the aquaculture facilities at Marshallberg Farms and the proposed site for the DownEast Aquacentre. MBCOI is following up on requests from representatives of 29 national and international organizations for further information. The impact of the 2015 BioMarine Business Convention on NC's economy will continue to be realized over time as the outcomes of the networking opportunities come to fruition.