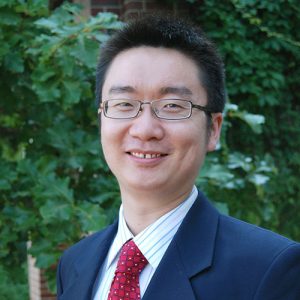 Led by NC State Professor Fanxing Li, this project aims to develop a modular system for distributed co-generation of liquid fuel, power, and water. Technologies that can effectively convert cheap, stranded ethane into transportation fuels are of significant value to US shale gas producers and chemical companies. Unfortunately, such technologies have not been developed to date, due mainly to the various intrinsic limitations of commercial ethane steam cracking and conventional technologies.
This project goal is to enable the economical production of synthetic gasoline from ethane that is particularly useful for producers in geographically isolated shale-gas fields, where transportation of ethane over large distances is prohibitively expensive. In the fiscal year 2019, Dr. Li continued to perform both fundamental and applied research on developing redox catalysts to convert methane and ethane, the main components of shale gas into syngas or light olefins such as ethylene.
In addition to redox catalyst studies, Dr. Li also performed process analysis for ethane conversion to liquid fuels. This study was accepted by the Journal of Advanced Manufacturing and Processing. In 2019 Dr. Li reported 8 published articles, a keynote and plenary presentation at the Spring 2019 American Chemical Society meeting, 3 graduate and 4 undergraduate students supported, and interest from Praxair and Sabic.
Dr. Li also noted he and Prof. Luke Neal have launched a start-up company, which has licensed patent applications resulting from the KIETS support. Dr. Li's research leveraged $947K from the Dept. of Energy and $200K from the UNC System in 2019. Dr. Li has also been awarded funding support for collaboration with Kenan Fellows through a grant proposal to the National Science Foundation and will be working with a Kenan Fellow in 2020.