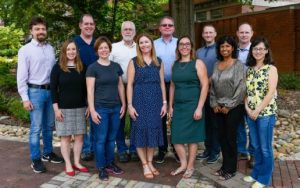 Led by NC State Professor David Muddiman, the Molecular Education, Technology, and Research Innovation Center (METRIC) provides state-of-the-art innovative technologies to address a diverse range of scientific questions while making state-of-the-art, scientific infrastructure and instrumentation such as mass spectrometry, magnetic resonance and X-ray crystallography available to all departments and faculty at NC State. METRIC hosted two symposia in FY 2018-19 – one focused on Mass Spectrometry in collaboration with Thermo Fisher Scientific and a second on NMR and X-Ray Crystallography.  METRIC's current pilot grants are as follows:
Colleen J. Doherty (CALS), Determining the Structure-Function Relationship of MBF1s, Key Regulators of Plant Thermotolerance;
Matthew Fisher (COE), Assessing Temporal Changes in the ECM Composition of the Anterior Cruciate Ligament During Growth;
Lauren Schnabel (CVM), Isolation, Identification, and Synthesis of Novel Antibiofilm Proteins from Platelet-Rich Plasma Lysate;
Michael P. Gamcsik (COE), Metabolic Mapping in Tumor Spheroids.
Dr. Muddiman is also serving as a mentor for 2019-20 Kenan Fellow Megan Alvord of Broughton High School (Wake County Public School System) on her project titled Using METRIC to Improve STEM Education.