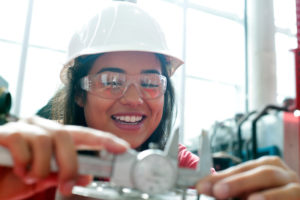 KIETS is collaborating with the National Academy of Engineering (NAE) on EngineerGirl.com, an interactive online platform designed to engage and excite middle school girls about the value of engineering to people and society, connect them with female engineering role models and like-minded students, and inspire them to consider engineering as a career.
During 2017, EngineerGirl:
served as a resource to more than 483,000 users,
more than 180 individuals received answers to their engineering-related questions via the Ask an Engineer program,
20 new engineers created profiles for the Directory of Women Engineers, and
30 organizations signed up to participate in the new Where They Work (WTW) Directory
EngineerGirl supports girls by providing resources such as engaging articles on the work of engineers, links to scholarships and local programs, guidance on the different types of engineering careers, and a dynamic community of women engineers who are excited about their own careers and willing to share their knowledge with others. In addition to site updates, much of 2017 was spent on developing new outreach vehicles that are being launched in 2018 including a newsletter, a design challenge, and an EngineerGirl Ambassadors program.
The Design Challenge is under development and will allow students to participate more directly with engineering by giving them hands-on challenges to try their skills and share their results with the engineers in the EngineerGirl Directory. The EngineerGirl Ambassadors program was launched in spring 2018 and will give well-qualified high school girls the opportunity to engage directly with EngineerGirl staff and other students around the country and develop their skills in outreach and leadership while implementing outreach programs to reach younger girls in their own communities.
A fundamental activity of EngineerGirl is an annual essay contest that is promoted through the website, email, and via partner organizations.  The contest engages students (male and female) in grades 3-12 in writing about how engineering affects every-day life. The 2018 essay contest theme was focused on "Engineering For Your Community" and explores issues regarding community infrastructure needs.
Participating in the contest were 547 students from 34 US states and territories and 10 countries in grades 3-12 who prepared and submitted written essays on how engineers can help to improve the infrastructure in their own communities. Kenan Fellow Christy Wilson has served for the past three years on the program's steering committee and has provided guidance in developing the essay contest topics, dissemination and outreach to teachers, and plans for future programs such as the EngineerGirl Ambassadors.