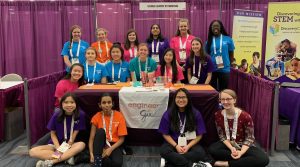 The Kenan Institute is collaborating with the National Academy of Engineering (NAE) on EngineerGirl, which is designed to strengthen the engineering workforce through diversity. Women are still severely underrepresented in the engineering workforce and other STEM fields. EngineerGirl provides resources and support to young girls to spark and deepen interest in engineering and help them aspire to an engineering degree.
During 2019, EngineerGirl implemented The EngineerGirl Ambassadors program—a completely new outreach program. EngineerGirl Ambassadors encourages high school girls to mentor younger girls in their communities by developing hands-on engineering programs to reach middle and elementary school students. 6 EngineerGirl Ambassadors participated from 6 different states across the US and connected them with engineering mentors, resources and training. The Ambassador projects are still in progress and are reaching potentially hundreds of elementary and middle school girls, many in low-income communities, in California, Maryland, Florida, Georgia, Connecticut, and Rhode Island.
EngineerGirl served as a resource to over 478,000 users, and over 190 individuals received answers to their engineering-related questions via the Ask an Engineer program. A fundamental activity of EngineerGirl is an annual essay contest that is promoted through the website, email, and partner organizations.  The contest engages students (male and female) in grades 3-12 in writing about how engineering affects every-day life. The 2019 essay contest theme was on Stories Engineered to Inspire and invited students to submit a work of creative fiction that celebrates engineering design and creative problem-solving.
Kassandra Grimes, a current Ph.D. student in Civil and Environmental Engineering at the University of Virginia, participated as a National Academies Mirzayan Fellow working with the EngineerGirl program. KIETS, Chevron and Oracle were core partners this year. Chevron and Oracle both provided financial support as well as volunteer support. Fifty-six Chevron volunteers and 19 Oracle volunteers helped to score the writing contest while 25 Chevron volunteers and 8 Oracle volunteers helped to select the EngineerGirl Ambassadors.