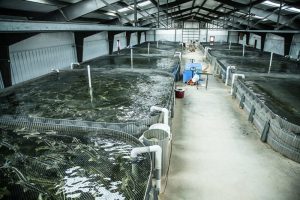 An outgrowth of the NC Coastal Federation oyster restoration initiative, this project led by Todd Miller of the NC Coastal Federation, Susan White of the NC Sea Grant, and Charles Peterson of the UNC Institute of Marine Sciences continues to build and promote the fledgling oyster aquaculture industry by informing state and local policies that support growers and outline proven management approaches, providing training, reducing barriers, and promoting local products.
In 2017-18, a steering committee (Shellfish Mariculture Advisory Committee, or SMAC) has been assembled and has been meeting almost monthly. Individual workgroups within this team of stakeholders are developing different elements of the Shellfish Mariculture Plan for N.C. focusing on industry leadership, removing barriers to entry into the industry, research, water quality, and how best to site new operations. Staff support is being provided by the UNC Policy Collaboratory as well as the Coastal Federation and Sea Grant.
The Collaboratory has engaged the Kenan-Flagler Business School at UNC-Chapel Hill through its STAR Program to develop recommendations regarding an oyster trail and marketing of local oysters for coastal N.C. In addition, the Collaboratory has hired a graduate student with its own funds to help staff the project. The project's SMAC has members that scientists from UNC-Wilmington, UNC-Chapel Hill, NC State University, East Carolina University, and Carteret Community College. This project is being reported in the federation's newsletters and publications, reaching approximately 5,000 direct readers, as well as social media, reaching approximately 17,000 friends.
The federation will also run a story on the mariculture plan in the federation's award-winning Coastal Review Online, which reaches nearly 250,000 readers annually. The Shellfish Mariculture Plan for North Carolina is under development. The project team is working with the SMAC to devise a strategic plan to grow the shellfish mariculture industry from the current dockside value of about $2 million to $33 million by 2030. This would result in an industry for the coast that has a total economic value of more than $100 million each year. This plan, which has been requested by the General Assembly by December 2018, will include findings, recommendations and detailed legislative, appropriations and regulatory proposals for its implementation. The plan will be drafted by the UNC Policy Collaboratory, the Coastal Federation, and NC Sea Grant.