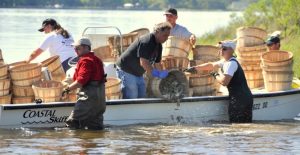 After years of declines in coastal environmental quality, projects aimed at repairing environmental damage are becoming much more commonplace. These efforts include projects that create or restore oyster reefs, freshwater and saltwater wetlands, estuarine shorelines, and coastal water quality. With Kenan Institute support, the NC Coastal Federation project team working in collaboration with NC Sea Grant completed a Strategic Plan for Creating a Robust Coastal Economy with Coastal Restoration.  It is a strategy for how to excite the public, state leadership and government agencies so that they use coastal restoration as an economic development tool. Oyster restoration is the centerpiece of the strategy, including the enhancement of wild stocks, sanctuaries, and aquaculture. This focus reflects the diversity of economic interests impacted by supporting oysters, the ecosystem benefits of healthy oysters on other coastal economic sectors, and the existing momentum around oysters in North Carolina.
The main goal of this strategic plan is to protect and create new long-term sustainable jobs for the coast while protecting and restoring its natural resources. This vision illustrates the potential for coastal N.C. to nurture and expand its existing economic base through conservation and restoration of its natural assets. This strategy will help the N.C. coast become the "Napa Valley of oysters" by using its clean and productive estuaries to fuel economic growth. This initiative will challenge North Carolina to become more competitive in attracting federal and private conservation funding dollars to protect and enhance our coastal economy.
Further research was completed by RTI, International with funding from the Albemarle-Pamlico Estuarine Partnership to determine the costs and benefits of oyster restoration activities conducted by the N.C. Division of Marine Fisheries and its partners such as the North Carolina Coastal Federation. This report documents that for every dollar spent by taxpayers since 2010 on oyster restoration in North Carolina, there has been a financial return of more than $3.00 to the State. Data from restoration projects currently underway will be used for further economic impact analysis over the next couple of years. The Coastal Federation is currently using approximately $2 million in federal and private funds to support restoration projects over the next couple of years, which will result in a rich data set to analyze the costs and benefits of coastal restoration. The official release of the final strategic plan was at the March 2017 summit, Sound Economic Development: Creating a Rising Tide for the North Carolina Coast.