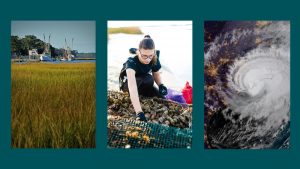 The NC Sea Grant (NCSG) Community Collaborative Research Grant (CCRG) program seeks to address priority coastal issues in the state through strategically linking local ecological knowledge (LEK) sources with academic experts in the field. The 2020 RFP continued the joint Sea Grant-Water Resources Research Institute model started last cycle.  This allows the RFP to have state-wide coverage and include both interior freshwater priorities as well as coastal ones.  The RFP was distributed through Coastwatch magazine, NCSG and WRRI press releases, NC university research offices, multiple program research and education listservs, NCSG advisory board members, WRRI advisory board members, multiple websites, social media and other stakeholder communication avenues and encouraged work focused on rural areas of North Carolina. Current projects include the following:
Rachel Gittman, Assistant Professor, Biology, East Carolina University, Testing Novel Substrates and Approaches to Improve Oyster and Salt Marsh Restoration Success.
Joel Fodrie, Associate Professor, Institute of Marine Sciences, UNC-CH, Determining the Ecological Impacts of Shellfish Relay in North Carolina.
Rose Hoban, Founder, Editor, and Reporter, North Carolina Health News, Speak Your Piece: Coastal Youth, Environment and Community.