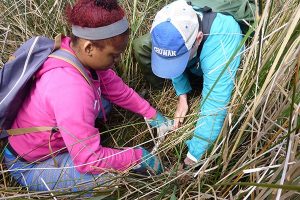 Led by NC Sea Grant (NCSG) Director Dr. Susan White and her colleagues Dr. John Fear, Dr. Jack Thigpen, and Ms. Katie Mosher Patterson, the NC Sea Grant Community Collaborative Research Grant (CCRG) program seeks to address priority coastal issues in the state through strategically linking local ecological knowledge (LEK) sources with academic experts in the field. The CCRG program provides opportunities f or individuals and communities with strong LEK to collaborate with N.C. researchers across the range of academic programs (e.g., natural and social sciences, education and business management).
Regarding the 11 proposals received from the current 2016-17 RFP cycle, a total of $177,872 funds were requested from the 11 received proposals representing 10 unique entities. These include three universities, (NC State, UNC-Chapel Hill, and East Carolina University), 1 community college (Carteret), 4 private industries (Seahorse Coastal Consulting, Bit and Grain Locals Seafood and Tydus LLC),  1 non-profit 501c3 (Bald Head Island Conservancy) and 1 private citizen.
The proposals included work for 14 NC counties: four Tier 3 counties (Wake, Carteret, Brunswick, and New Hanover), four Tier 2 counties (Craven, Onslow, Pamlico, and Dare), and six Tier 1 counties (Hyde, Washington, Martin, Jones, Beaufort, and Tyrell). Initial assessment of the received proposals show potential impacts of a new shrimp net design to help eliminate bycatch; a display at the NC Estuarium to educate the public on invasive species; shedding technology to enhance the soft crab industry; workforce development for Ocracoke Island; and a citizen science approach to examine maximum water level inundation, to name just a few. KIETS Associate Director Raj Narayan serves on the CCRG review and steering committee.