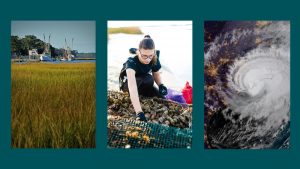 The NC Sea Grant Community Collaborative Research Grant (CCRG) program seeks to address priority coastal issues in the state through strategically linking local ecological knowledge (LEK) sources with academic experts in the field. The CCRG program provides opportunities for individuals and communities with strong LEK to collaborate with N.C. researchers across the range of academic programs (e.g., natural and social sciences, education and business management).
The CCRG now includes a collaboration with the Water Resources Research Institute (WRRI). Seventeen proposals equaling a total funding request of $330,844 were submitted in response to the 2019 CCRG call, which is the highest number ever for the CCRG program and reflects a 35% funding request increase compared to last year, and an 86% increase over the past two years. Thirteen of the 17 applicants this year were new PIs to the CCRG program. Of the 17 applicants, 13 provided matching funds within the proposal, and 11 included support for students. KIETS Associate Director Raj Narayan serves on the CCRG review and selection committee.
Current projects awarded pursuant to the 2019 call for proposals include the following:
Michael Burchell, Associate Professor, Department of Biological and Agricultural Engineering, NCSU, Detritus Removal, and Enhanced Aeration to Improve Water Quality Treatment and Extend the Useful Life of Constructed Wetlands in NC.
Lisa Campbell, Rachel Carson Associate Professor, Nicholas School of the Environment, Duke University, Connecting for Resilience:  Understanding Community Networks and Their Role in Disaster Preparedness and Response.
Barbara Garrity-Blake, Adjunct Professor, Duke University, In the Wake of the Storms:  Working Waterfronts and Access in Coastal North Carolina.
Colleen Karl, Chowan Edenton Environmental Group, Using Citizen Science to Understand Nutrient Limitation of Algal Blooms on the Chowan River:  Filling Critical Data Gaps and Promoting Community Engagement.
Astrid Schnetzer, Associate Professor, Department of Marine, Earth, and Atmospheric Sciences, NCSU, Food Web Transfer of Cyanobacterial Toxins in the Chowan River and Western Albemarle Sound, North Carolina.