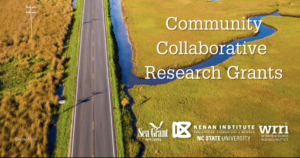 The NC Sea Grant (NCSG) Community Collaborative Research Grant (CCRG) program seeks to address priority coastal issues in the state through strategically linking local ecological knowledge (LEK) sources with academic experts in the field. The 2022 RFP continued the joint Sea Grant-Water Resources Research Institute model, which allows the RFP to have statewide coverage and include both interior freshwater priorities as well as coastal ones.
The RFP was distributed through Coastwatch magazine, NCSG and WRRI press releases, NC university research offices, multiple program research and education listservs, NCSG advisory board members, WRRI advisory board members, multiple websites, social media and other stakeholder communication avenues and encouraged work focused on rural areas of North Carolina. Current projects include the following:
Jerry Miller (Western Carolina University), Source, Transport Rates, and Transport Dynamics of Plastic Particles in Small Headwater Basins of the Southern Appalachians;
Olya Keen (UNC-Charlotte), Building Agents of Change within Community through Youth and Resident Education, Career Awareness and Community Science Initiative;
Hans Paerl (UNC-Chapel Hill), HAPs and HABs: Investigating Associations between Air and Water Quality through Community Collaborations in Eastern North Carolina;
Ashley Patrick Lomboy (Waccamaw Siouan Tribe Member and Founder of Waccamaw Siouan STEM Studio), Reinforcing Resilience: Gleaning Knowledge from the Land and Water of the Waccamaw Siouan Tribe.