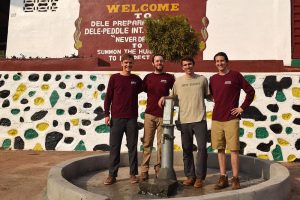 The NC State Chapter of Engineers Without Borders (EWB-NCSU) seeks to empower communities and equip leaders internationally and locally to meet their needs through sustainable engineering projects, all while developing students into cross-cultural servant-leaders. EWB-NCSU is a student-run initiative of the national non-profit Engineers Without Borders. EWB-NCSU consists of three international project teams, a local projects team, and a fundraising team.
The Sierra Leone Water (SLW) and Sierra Leone Renewable Energy (SLRE) team have collaborated with the Lemon Aid Fund and the Dele Preparatory School in Lower Allentown, Sierra Leone since 2010 to address their water, sanitation, and energy needs. The Guatemala Water Systems (GWS) team has collaborated with the rural community of Caserio Panhux, Guatemala since 2016 to address their water access and quality needs.
EWB-NCSU is utilizing KIETS support towards the third implementation phase of GWS. This phase will implement 19 rainwater-harvesting systems for 18 families and one school in Caserio Panhux, Guatemala. KIETS had been supporting EWB-NCSU on their work in Sierra Leone until an outbreak of Ebola limited their work in the country. KIETS support enables EWB-NCSU to follow up on their monitoring work for the SLW and SLRE initiatives.