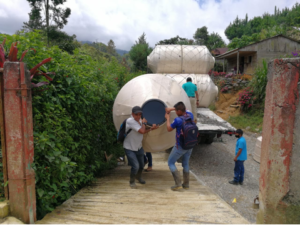 The NC State Chapter of Engineers Without Borders (EWB-NCSU) seeks to empower communities and equip leaders internationally and locally to meet their needs through sustainable engineering projects, all while developing students into cross-cultural servant-leaders. EWB-NCSU is a student-run initiative of the national non-profit Engineers Without Borders.
In 2019-20, The Sierra Leone Renewable Energy (SLRE) and Sierra Leone Water (SL W) teams focused on collaborating with the community encompassing the Dele School to design and implement systems that provide the school's 700 students with sustainable sources of water and energy. The final monitoring trip in March 2020 marked the culmination of a project started 13 years ago and served to evaluate the continued function of the implemented systems, conduct closing interviews with local leadership, and officially turn over ownership of the systems to the community.
The Guatemala Water Systems (GWS) team is approaching the final implementation phase of its project to provide the residents of the rural community of Caserio Panhux with reliable access to clean water. In light of COVID, the EWB-NCSU GWS team conducted a remote implementation project to install 10 rainwater harvesting systems in Fall 2020. The North Carolina Projects (NCP) team is completing its project with Powell Elementary School in East Raleigh to integrate solar power into the irrigation system for the school's garden, while also educating students about engineering challenges and the design process.
KIETS support is helping EWB-NCSU with resources for its GWS remote implementation project as well as build capacity within the chapter by creating new partnerships with local industries and volunteer organizations, and spreading the mission of EWB-NCSU through community outreach and promotional projects. EWB-NCSU is helping Wake Forest University students start a new EWB chapter. EWB-NCSU is leveraging cash and in-kind support from corporate partners such as Advanced Energy and CDM Smith Civil Engineering, as well as the RTP EWB chapter and National EWB organization.