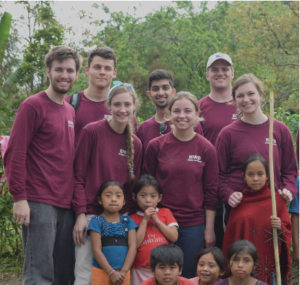 The NC State Chapter of Engineers Without Borders (EWB-NCSU) seeks to empower communities and equip leaders internationally and locally to meet their needs through sustainable engineering projects. EWB-NCSU is a student-run initiative of the national non-profit Engineers Without Borders. In FY 2020-21, the North Carolina Projects team completed their implementation of an irrigation system for a community garden and educational curriculum at Powell Elementary School in Raleigh, NC. Overall, the community garden at Powell Elementary encourages students and teachers alike to become environmental stewards in their own communities by understanding water conservation. Additionally, the project helps the school save water by utilizing rainwater stored in rain barrels to water the gardens opposed to using municipal water.
North Carolina Projects also began a collaboration with Inter-Faith Food Shuttle to create a hydroponics system for their greenhouse. Inter-Faith Food Shuttle is a non-profit in Raleigh, NC, which focuses on producing and distributing low-cost, sustainable, and healthy food for multiple underserved populations. The primary anticipated outcome for this project is a functioning hydroponics system to support garden production at the Dover Farm location operated by Inter-Faith Food Shuttle. The Guatemala Water Systems (GWS) project team has continued to remotely oversee maintenance and implementation of rainwater harvesting systems in the indigenous Guatemalan community of Caserio Panhux to provide households with sustained access to and storage of clean water.
On April 20, 2022, the GWS project team began its fifth and final round of implementation, and 13 additional systems were installed in Caserio Panhux, a community of over 300 people across 64 families. The Sierra Leone Water (SLW) and Sierra Leone Renewable Energy (SLRE) teams are now fully pursuing two new projects in the region. As travel restrictions continue to prevent the chapter from planning assessment trips to the Browndel and Goshen schools in Sierra Leone, both teams have pursued remote assessment options via an in-country remote engineer as a means of furthering the progress of the projects. KIETS support is helping the EWB teams with providing infrastructural improvements within the communities they are serving.  Professor Andrew Grieshop from the College of Engineering serves as the faculty advisor for EWB-NCSU and KIETS Associate Director Raj Narayan serves as a member of their advisory board.