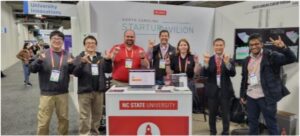 Led by the Office of Research Commercialization (ORC) NC State University, in partnership with nine other leading research universities, was selected by the National Science Foundation to be one of the five national I-Corps Hubs, a $15 million, five-year award. NC State will receive $2M over five years and serves as one of three partner organizations in the Hub, leading efforts to attract, train, and match industry mentors with I-Corps teams from all universities in the Mid-Atlantic Hub. NC State's ORC led the creation and development of a series of over 20 new I-Corps curriculum videos for use throughout the entire Mid-Atlantic Hub in each universities' regional teaching. ORC also implemented a new mentorship network launched in June 2022 and key stakeholders are engaged in developing a new I-Corps mentor training program for new mentors entering the Hub. In FY 2022-23 the NC State I-Corps Program successfully completed three short course cohorts (Summer 2022, Fall 2022, Spring 2023).
Total program participants included sixty-two total participants. Three new NC State startups were launched in 2023 upon completion of the ICorps program including Lathyrus Biotechnology, Aja Labs, and Redeem Technologies. ORC reported that 12 faculty members, 3 undergraduates, 15 graduate students, and 5 postdocs participated in the ICorps Program in 2023. ORC hosted the first annual Mid-Atlantic I-Corps Hub Annual Meeting in Raleigh in December 2022, with 53 attendees from various member and partner institutions within the Hub. This event enabled I-Corps advocates, instructors, and administrators to come together to share best practices and explore areas of collaboration. KIETS Associate Director Raj Narayan serves as an NC State I-Corps ORC faculty instructor and advises the mentors and entrepreneurial leads in the NC State ICorps program.
Some notable accomplishments of recent NC State I-Corps Hub participants include the following:
The Wrap & Plant team applied to and was accepted into NSF's National I-Corps Teams Program in February 2023 receiving a $50K grant.
Startup Cosmic Eats received a direct to Phase II SBIR award from the Defense Advanced Research Projects Agency (DARPA) totaling $2.85 million.
NC State startup Aja Labs raised a $2.5 million seed round to scale its technology that enables plastic-free synthetic fibers for the consumer beauty space.
Ten NC State startups and research teams attended the 2023 Consumer Electronics Show (CES) in Las Vegas in January 2023 to present their companies/projects on the trade show floor at Eureka Park.