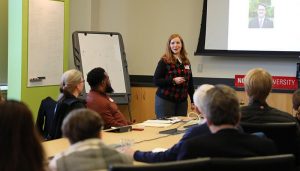 The SBIR/STTR programs are a critical mechanism for advancing research commercialization efforts through research-based startup companies to the next phase of technology and business development. NC State startups have successfully leveraged the Federal SBIR/STTR programs to fund their research commercialization efforts with 196 SBIR awards and 52 STTR awards totaling $91M in non-dilutive funding to date. This success exists given the current ecosystem and support resources detailed here. However, the biggest driver of this success has been the persistence and determination of the individual researchers and the companies that they create. There has not been a coordinated and formalized strategy to address the existing constraints outlined in this proposal.
The NC State Office of Research Commercialization led by Wade Fulghum seeks to establish a formalized support process to enable NC State researchers who are seeking to leverage SBIR/STTR funding. The SBIR/STTR Spark Plug initiative would have several elements including the following:
Creation of an SBIR/STTR matching tool to assist researchers to respond to RFPs;
Provide seed funding to enable grant writing efforts;
Organize SBIR/STTR roundtables quarterly to cultivate researchers' interests in pursuing these grant opportunities.
This program seeks to establish the SBIR/STTR matching tool for quickly assembling possible research teams and existing startup companies to pursue funding. After launch of the tool, informing researchers about the possibilities and potential matches between collaborators should spark new interest in leveraging SBIR/STTR funding to commercialize their research with the expectation that the number, quality, and win rate for NC State researchers and startups will increase.
Other potential partners being consulted include the NC Board of Science and Technology, which implements the One North Carolina Small Business program providing matching funds for SBIR/STTR Phase 1 grants as well as the SBTDC, First Flight Ventures, Comparative Medical Institute at the College of Veterinary Medicine, RENCI, CIMS, and the Kick Start Ventures Program at UNC-CH. KIETS support would help leverage resources from the Office of Research Commercialization and NC State Departments and Colleges.