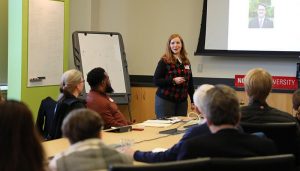 Federal SBIR/STTR funding is a critical mechanism for advancing research commercialization efforts through research-based startup companies to the next phase of technology and business development. Many NC State startup companies have successfully leveraged SBIR/STTR programs to fund their research commercialization efforts but this has been due to the persistence and determination of the individual researchers and companies they create, as there has never been a coordinated and formalized strategy to address the many constraints that exist around the process.
These constraints include: navigating a disconnected and confusing system to discover relevant funding opportunities, lack of funding to allow researchers and companies to utilize grant writing assistance, and experiences with SBIR/STTR proposals are not shared among our startup companies. The NC State Office of Research Commercialization (ORC) led by Wade Fulghum in collaboration with KIETS has established a formalized support process that will help NC State researchers and startups to maximize their potential for success.
2020 awardees include the following:
Empathic Research: working to commercialize a plant-based alternative to opioids for pain relief. Company lead: Dr. Scott Laster, Biological Sciences.
Synoxa Sciences: producing novel, effective antibiotic treatments for patients suffering from serious multi-drug resistant bacterial infections. Company lead: Dr. Joshua Pierce, Chemistry.
Oncurie, LLC: developing a novel targeted radionuclide therapeutic technology to treat small, nascent and anatomically diverse metastatic cancer sites. Company lead: Dr. Jon Lindsay, Chemistry.