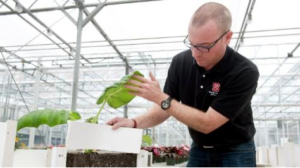 NC State's Office of the Vice Chancellor for Research and Innovation (ORI), in collaboration with the Kenan Institute, developed and launched the NC State Research and Innovation Seed Funding (RISF) Program in 2009. The purpose of the RISF Program is to stimulate NC State faculty and staff professionals to investigate multidisciplinary research initiatives, involve undergraduate and graduate students in research programs, and to enable and encourage corporate and government support of large research projects. For reported outcomes since 2010, the RISF program has received 398 proposals and awarded 72 projects. These RISF projects have generated approximately 147 follow-on proposals to external organizations of which 39 received awards totaling $25,343,979 and leveraged the total ORI/KIETS awards of $1,656,327 during the corresponding period. In addition, 86 students were supported, 262 publications or presentations were made and 31 workshops/symposia were held during that period.
The traditional FY 2022-23 RISF awards include the following:
Dr. Rosemary Bayless, College of Veterinary Medicine, Elucidation of Molecular Targets for a Novel Anti-inflammatory Therapeutic Phytocompound;
Dr. Peter Fedkiw, College of Engineering, Self-Healing, Room-Temperature Liquid-Metal Electrodes for Energy Storage;
Dr. Qing Gu, College of Engineering, Control of Room Temperature Quantum Coherence with Optical Metasurfaces;
Dr. Xu Xu, College of Engineering, Promote Undergraduate Data Science Learning Through Students' Own Hand Gesture and Motion.