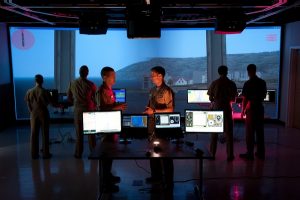 Led by NC State College of Humanities and Social Sciences Professor Dr. Kathleen Vogel, this workshop held April 18-19, 2016 at NC State brought together Science and Technology Studies (S&TS) scholars, anthropologists, political scientists, intelligence community practitioners, and civil society members from the United States, United Kingdom, and Europe to discuss the challenges of analyzing intelligence communities and de-classified national security documents.  Approximately 22 external speakers from U.S. and Europe participated in the meeting as well as six NC State faculty on the program.
The meeting was open to the public and we anticipate involving around 75 participants to the workshop and about 200 participants to the evening Buchdahl lecture held on April 18th. The workshop catalyzed new scholarly and public discussions on the study of intelligence and how secret knowledge is produced, transferred, and used, and the various social and ethical issues to consider.  This two-day workshop at North Carolina State University explored these issues among papers, presentations, and discussions with scholars, intelligence practitioners, and civil society members through examining specific historical and contemporary case studies about intelligence and security threats.
The workshop also served as part of the annual TISS-Intelligence Community Center for Academic Excellence (IC-CAE) symposium, which included faculty and students from the University of North Carolina-Chapel Hill, Duke University, and North Carolina Central University. Kenan Institute support leveraged funds from the National Science Foundation, Triangle Institute for Security Studies, and the NC State Science, Technology, and Society Program.