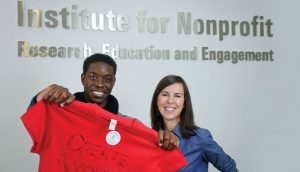 Led by Rich Clerkin Director of the NC State Institute for Nonprofits and Elizabeth Benefield Director of NC State's Social Entrepreneurship Initiative, this project builds off prior KIETS support and is focused on enabling the design and launch of a new social innovation fellows program, and greatly expand experiential and mentoring offerings to both undergraduate and graduate students working on social ventures.
The fellows' program launched in October 2017 with KIETS support to engage students in cross-disciplinary teams in developing social impact ventures. With the engagement of its current Social Entrepreneur-In-Residence, Aly Khalifa, the Institute for Nonprofits is offering a dynamic new learning pathway that connects and leverages existing campus and community resources in social innovation and entrepreneurship. Students participate in building venture teams, human-centered design thinking, community mentoring, pitch competitions and other offerings.
Approximately 80 applications were received and 30 students representing nine of the 10 NC State colleges were selected for the inaugural cohort of the Social Innovation Fellowship. In partnership with local and global enterprises, the Fellows, over the course of the academic year, have made a significant impact on solving real-world problems.
The current 2017-18 projects include the following:
Food Insecurity is a huge problem on college campuses. NC State recently established a Food and Housing Insecurity Taskforce to combat this problem. The fellows' team is working to raise awareness about this issue and create programs to help improve food security. They will organize, market and help facilitate the spring community conversation engaging hundreds of students, staff, and faculty and help to outline the next steps.
FreshSpire is a company that was founded by an NC State student when she was a senior in high school. The mission was to reduce food waste by partnering with grocery stores to alert consumers when food was discounted and close to expiration. The company has pivoted since joining the Fellows program and is now building a technology platform to connect wholesalers of food with restaurants to create a new market for ugly fruits/vegetables that do not fit appearance standards and fail at points of retail. The team is working to develop this technology and now making connections with restaurants and wholesalers and other distributors. The FreshSpire team won first place in the Social and Environmental impact category at the NC State Lulu eGames. KIETS Associate Director Raj Narayan serves as a mentor for the FreshSpire team and serves on the Social Innovation Fellows Program Brain Trust.
Haiti Goat Project – A program led by Char Farin, faculty member in Nutritional Science here at NC State, the Haiti Goat Project is demonstrating sustainable agriculture practices to improve farming practices in Haiti and in so doing, the nutritional health of Haitian children.
Wine To Water – Wine to Water is a global nonprofit established by an NC State alum and headquartered in Boone working to provide emergency water filters to disaster relief areas as well as underserved communities, and also drill wells using simple and local parts. The Fellows team is working to fix operational issues with the filter to make it easier to understand and to use.
Ocean Works – The mission of this locally based but globally engaged nonprofit is to reduce the plastic that pollutes the oceans. The fellows team is working on designing the schematics for a portable recycling unit that can be transported to remote locations in order to recycle the plastic on site, not only addressing the problem of waste but serving as a local economic engine.