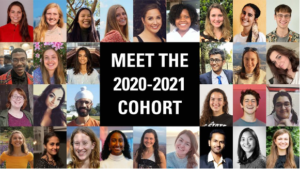 The NC State Social Innovation Fellows program provides experiential and mentoring offerings to both undergraduate and graduate students working on social ventures. In 2020-21, the NC State Social Innovation Fellows program continues to thrive in its fourth year of operation and grew its program offering to an outstanding group of 30 young scholars, six mentors, and six exciting venture partners collaborating on the following projects:
A Place at the Table – A Place at the Table is a pay-what-you-can cafe in downtown Raleigh created by social entrepreneur Maggie Kane. Their goal is to provide good food and a welcoming community for everyone, regardless of economic status;
Episcopal Farmworkers Ministry – Returning for their second year with the Social Innovation Fellows, the Episcopal Farmworkers Ministry (EFWM) is a nonprofit organization located in Dunn, NC dedicated to improving the quality of life for migrant farm workers;
NC State Composting Facility & Research Cooperative – The NC State Composting Facility and Research Cooperative is a campus unit that handles nearly all of NC State's organic waste. One of their major accomplishments is creating a "closed loop system" for NC State where all of the university's organic waste is composted and then reused in landscaping and food production;
People-First Tourism – People-First Tourism (P1T) is a social enterprise created by NC State faculty member Duarte Morais. P1T specializes in discovering and advertising unique and entrepreneurial tourist experiences;
All We Are – All We Are is a Raleigh-based nonprofit that helps provide clean energy by installing solar panels in Ugandan villages. Founded by social entrepreneur Nathan Thomas, the organization focuses on community-oriented buildings such as hospitals or schools and uses solar grids to help provide them with reliable and renewable energy access.
KIETS Associate Director Raj Narayan serves as one of the team mentors for the Social Innovation Fellows and KIETS Program Associate Tara Spivey provides advisory and logistical support to their SIF team.