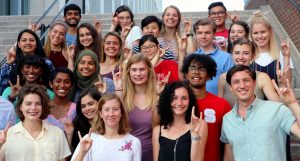 Led by Elizabeth Benefield, Program Director of NC State's Social Entrepreneurship Initiative, the NC State Social Innovation Fellows program provides experiential and mentoring offerings to both undergraduate and graduate students working on social ventures. In 2019-20, the NC State Social Innovation Fellows program continues to thrive in its third year of operation. Selecting from 77 applicants, an outstanding group of 25 young scholars, five mentors, and five exciting venture partners will focus on the following projects:
Our Wave – Empowering survivors of sexual assault to safely share stories;
Reborn Clothing – Reducing textile waste by upcycling unused garments into new products;
Water in the Fields – Providing farmworkers access to clean and portable drinking water;
Haiti Goat Project – Scaling goat harvesting operations in Haiti to serve more children high protein meals;
700 Rivers – Empowering Bangladeshi seamstresses and their families by providing them with living wages and safe working conditions to produce sustainable and fashionable clothing.
Fellows represent eight colleges at NC State with class years ranging from second-year undergraduates to Ph.D. and DVM students. In addition to the students selected to become Social Innovation Fellows, social entrepreneurship offerings reach several hundred students and community stakeholders each year through workshops, COMx events, Dinners with Purpose and other events. KIETS Associate Director Raj Narayan continues to serve as one of the Team Mentors for the Social Innovation Fellows.