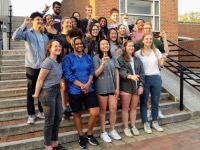 The mission of NC State Social Innovation and Entrepreneurship is to empower social impact leaders to build the capacity to create systemic change. Of particular note in the 2021-22 academic year, the Social Innovation Fellows Program (SIF) secured resources from NC State Entrepreneurship to participate in the Fowler Global Innovation Challenge, a prestigious pitching event hosted by the University of San Diego in June 2022 SIF also completed an intensive yearlong strategic planning effort with high-level community stakeholders and donors with the goal of securing a new administrative home and enhancing program funding.
The 2021-22 cohort of Fellows included 25 undergraduates, 2 graduate students, and 7 Senior Fellows from prior cohorts as mentors.  30 students from nine different colleges at NC State. The Fellows focused on six of the 17 UN Sustainable Development Goals as a part of NC State's Sustainable Development Goals Initiative. Of note, the SIF team who worked with NC State Compost Facility in 2020-21 succeeded in securing passage of a bill by NC State Student Government to require educational workshops on the importance of composting for all incoming NC State students. KIETS Associate Director Raj Narayan serves as one of the core faculty team mentors for the Social Innovation Fellows program.
2021-22 SIF projects included the following:
Sankofa Farms – Sankofa Farms is a venture founded by NC State Doctoral Student Kamal Bell that aims to assist in changing the food intake habits of those living in and affected by food deserts.
NC Interfaith Power and Light – NC Interfaith Power and Light is a program of the NC Council of Churches that builds resilient NC communities that advocate for public policymaking to mitigate the effects of climate change;
NC State Composting Facility & Research Cooperative – The NC State Composting Facility and Research Cooperative is a campus unit that handles nearly all of NC State's organic waste;
NC Sea Grant – NC Sea Grant is an NC State research organization with the goal to sustainably steward ocean, cost and watershed resources;
Karma Wallet – Karma Wallet is a digital platform that empowers users as conscious consumers using their capital for social and environmental good;
All We Are – All We Are is a Raleigh-based nonprofit that helps provide clean energy by installing solar panels in Ugandan villages.