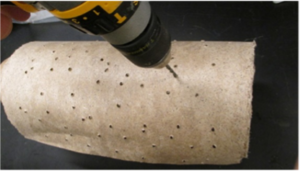 NC State Professor Saad Khan is developing novel material platforms to ensure global food security through sustainable crop protection. In FY 2021-22, Dr. Khan extended the crop protection approach for Nigeria and Tanzania in sub-Saharan Africa (SSA) and (a) developed lignocellulosic hybrid fibrous materials particulate dispersions for seed treatment and foliar application and (b) fabricated metal-organic frameworks (MOF) loaded lignocellulosic matrices for volatile organic compound (VOC) sorption and sensing in plants.
These materials (fibers, particles and matrices) are capable of slow and sustained release of pesticides without negatively impacting the seed germination and plant growth process. Dr. Khan also reported that they have developed a novel wrap and plant technology for smallholder farmers in Benin and Kenya and other parts of Africa. These results have prompted the Bill and Melinda Gates Foundation (BMGF) to fund further studies in this important field of food security.  Promising results in Kenya and Benin have opened opportunities to expand the trials further to other countries, Tanzania, Togo, Ghana and Nigeria, which is an exciting achievement of this project.
Besides development of matrices using indigenously available resources, Dr. Khan and his colleagues have expanded the trials in sweet potato fields in North Carolina and the plants to transition this approach to mechanized farming are in the pipeline.  Several faculty members are involved including Dr. Charles Opperman from Plant Pathology & Entomology department, Dr. Lokendra Pal from Forest Biomaterials, Dr. Daniel Coyne from the International Institute of Tropical Agriculture, Kenya, and Dr. Antoine Affokpon from the School of Plant Sciences, University of Abomey-Calavi, Benin.
Dr. Khan also report two invention disclosures, two patent applications filed, four publications generated, three graduate students, two undergraduate and one post doc supported. Dr. Khan and his colleagues are also investigating the commercial application of these innovations and their post-doc participated in NC State's ICorps program to investigate the commercialization pathways for their inventions.