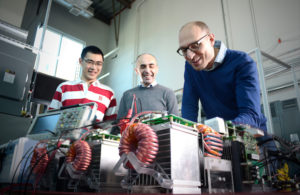 The FREEDM Systems Center has been pioneering developments in power and energy through its FREEDM concept, which provides an architecture for a future electric power distribution system. The FREEDM concept envisions the "Energy Internet," a system that enables flexible energy sharing for consumers in a residential distribution system. The FREEDM center is currently focused on systems demonstration of the FREEDM concept with three fully functioning low voltage solid-state transformers with integrated generation, loads, and storage on each. Additionally, medium voltage solid state transformer and medium voltage DC circuit breaker hardware developments are in progress, but their full power demonstrations will be completed in 2019.
FREEDM received a one-year extension from the National Science Foundation to complete the activity. The center was successful in winning an $875K two years funding amendment called CREDENCE focused on multidisciplinary modeling and road mapping of the utility grid in partnership with University College Cork, the Economic and Social Research Institute of Ireland, and Queens University Belfast in Northern Ireland.  This presents a unique opportunity to analyze the direction and development of technologies on the utility grid and develop a more robust roadmap for the adoption of FREEDM based distributed energy technologies internationally.
In addition, the Center reported the following:
93 publications,
16 inventions disclosed,
9 patent applications filed and granted,
33 faculty members engaged,
37 undergraduates engaged,
29 graduate students,
7 postdocs engaged,
196 K-12 teachers involved,
1,750 K-12 students reached,
and 34 companies engaged.
The FREEDM Center also supported 2017-18 Kenan Fellow David Sander, a CTE teacher at Wake Forest High School in the Wake County Public School System on his project titled Fueling the Future of Renewable Energy.