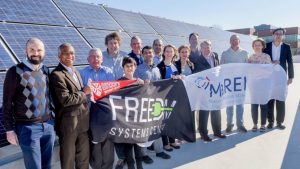 The FREEDM Systems Center has developed a systems demonstration of the FREEDM concept with three fully functioning low voltage solid state transformers with integrated generation, loads, and storage on each. This demonstration provides electric utilities and equipment providers with first-hand experience of how a FREEDM System can operate and increase the utilization of intermittent distributed renewable energy while increasing reliability, operational efficiency and resilience.
The center was successful in winning an $875K two-year funding amendment called CREDENCE focused on multidisciplinary modeling and road-mapping of the utility grid in partnership with University College Cork, and the Economic and Social Research Institute of Ireland and Queens University Belfast in Northern Ireland. This opportunity allows for a more robust road map for the adoption of FREEDM based distributed energy technologies internationally.
In 2016-17, FREEDM reported receiving its first licensing revenue for technologies developed through the center. In addition, the Center reported the following:
126 publications, 2 inventions disclosed, 1 patent applications filed and 4 granted,
41 faculty members engaged, 31 undergraduates engaged, 44 graduate students, 10 post docs engaged,
260 K-12 teachers involved, 460 K-12 students reached, and 34 companies engaged.
Key accomplishments include approval from the National Science Foundation review team for continuation with NSF funding until 2018. In addition, the FREEDM center received a $1.5 million endowment from Duke Foundation for its sustainability beyond 2018. The FREEDM Master of Science in Electric Power Systems Engineering has over 72 graduates and a 98% employment rate. The FREEDM Center sponsored 2016-17 Kenan Fellow Deborah Scherr-Freedman of Wake Forest Middle School (Wake County Schools).