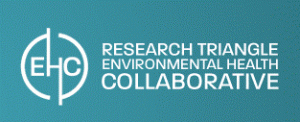 A primary objective of the Research Triangle Environmental Health Collaborative is to orchestrate yearly Environmental Health Summits to be held in the region, bri nging together environmental and public health leaders to discuss emerging issues facing environmental health and to plan a strategy for innovatively addressing these challenges. The Fall events have taken place at the North Carolina Biotechnology Center in Research Triangle Park (2008-2012/2014-2016) and North Carolina Museum of Natural Sciences (2013) and attracted approximately 125 worldwide attendees representing academia, industry, local, state and federal government and public interest groups.
In response to the NAS Report on Exposure Science 21, the Research Triangle Environmental Health Collaborative convened a workshop, "Exposure Science in the 21st Century: Role of Citizen and Communities," in November 2014. While the meeting touched upon many of the lessons learned from past community-engaged research programs and projects, it did not fully consider the important continuum of community engagement, including citizen science, in environmental public health. The 2016 RTEHC Summit held on December 8-9, 2016 titled Community Engaged Research and Citizen Science: Advancing environmental public Health to Meet the Needs of Our Communities was organized to advance the conversation from 2014.
The Collaborative convened its 9th annual summit on the heels of the 50th anniversary of the National Institute for Environmental Health Sciences and just prior to the publication of the National Advisory Council for Environmental Policy and Technology report recommending Citizen Science to the Environmental Protection Agency. Attendees were divided into three workgroups to focus on Conduct of Citizen Science Research, Data and Technology, and Ethical, Legal, and Social Issues.
The summit participants considered the application of citizen science in the context of environmental health disparities. Throughout the course of the conference, three key themes were pervasive in discussions across all three workgroups: how to include citizen science into regulatory actions/standards, a need for frameworks and best practices to guide citizen science research, and, importantly, respect and engagement of the community in research efforts. Environmental Health Perspectives will publish a meeting report in 2017.  The Summit findings were presented in May 2017 at the Citizen Science Association meeting in Minneapolis.