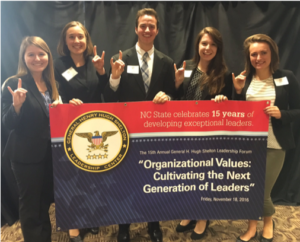 Led by its Director Barbara Mulkey and Associate Director Dr. Myra Moses, the General H. Hugh Shelton Leadership Center (SLC) is developing its Rural Entrepreneurial Leadership Program in Rutherford County as a way to collaborate with rural NC counties to stem the brain drain of students who leave their home counties for educational/employment opportunities and never return.
By creating a platform where students can engage with community businesses and organizations, the Link to Your Future app development project will greatly enhance the impact and sustainability of the Rural Entrepreneurial Leadership Program. The app development project will allow students in the Rural Entrepreneurial Leadership Program to engage in a real-world, hands-on entrepreneurial leadership experience where they create a "product" to address identified needs in their community.
One issue they will explore is how to connect businesses and students with opportunities that will benefit each group. The SLC has partnered with the Rutherford County Public Schools and the McNair Foundation to launch the pilot program. The 2018-19 launch of the high school program includes a 2018 summer experience for 11th grade students and ongoing programming during the school year. Students from each of the county's three high schools will be selected to attend a three-day summer program that will focus on exposing students to entrepreneurial and leadership concepts and how they might relate to addressing issues in their home communities.
In addition, students will learn about and visit entrepreneurs and leaders in their communities. Beginning with high school students, and then expanding to middle school students, the program will be integrated into leadership experiences that are currently threaded through the public schools at different grade levels and will culminate in an entrepreneurial leadership internship for students during their senior year. Once the Rural Entrepreneurial Leadership Program kicks off in Rutherford County, the SLC will then expand the program to a county in eastern North Carolina, with the ultimate vision to expand to multiple rural counties in all regions of North Carolina.