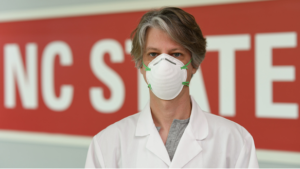 With a special allocation of $100,000 from the Board of Directors of the Kenan Fund for Engineering, Technology and Science, KIETS was able to assist in a NC State response to the COVID-19 challenge in support of efforts being led by NC State's Non-Wovens Institute (NWI) as well as BTEC to develop face masks and hand sanitizer for use by those addressing the needs of individuals affected by the coronavirus. NWI is using its two research and training pilot production lines to produce face mask materials that will be used to protect medical workers on the front lines of fighting the effects of COVID-19. Because of the current critical need for masks caused by COVID-19, Dr. Benham Pourdeyhimi and his NWI team created a new spun bond material that can serve as an effective filter without the need for a meltblown filtration layer.
The unique fabric is composed of two different polymer materials that are combined to make a single fiber with significant strength and bulk – and that shows effectiveness in filtration similar to current materials used. Support is leveraged internally by units such as the Office of Research and Innovation, the Office of Finance and Administration, the Office of the Provost, the Wilson College of Textiles and KIETS, as well as externally by industry partners. Between April and June 2020, NWI provided nearly 2.9 million square meters of its spun bond and meltblown fabrics to partners across the country. NC State has also donated material to the U.S. Army and delivered materials to partners across the country to manufacture critically needed equipment. Through an additional collaboration between NWI and Freudenberg, 1 million high quality surgical masks per month are being manufactured and delivered to North Carolina government organizations and UNC System universities over the next year.
The NWI also announced a new partnership with Blue Cross and Blue Shield of North Carolina, Freudenberg Performance Materials, UNC Health, the NC Healthcare Association and NC Medical Society to manufacture N95 masks to equip frontline workers across North Carolina with a safe and cost-effective solution. Prices for N95s and other critical supplies have jumped sometimes more than five times pre-COVID prices. The collaboration will produce an initial 100,000 to 200,000 N95 respirators per month with plans to quickly ramp up production, providing a more consistent and affordable source of PPE for local health care systems.
NC State's Biomanufacturing and Education Training Center (BTEC) is also producing hand sanitizer and has received support from Novozymes. BTEC began the manufacturing process in March by registering the facility with the FDA and obtaining the required permits. The manufacturing process is based on the World Health Organization's formulation for hand sanitizer. The primary component is ethanol with additions of hydrogen peroxide, glycerol, and high purity water. The final formulation is an 80% ethanol solution that is close to the consistency of water.