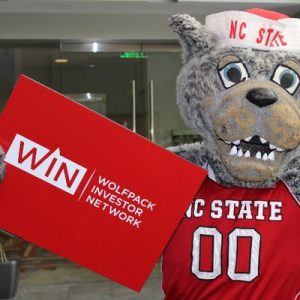 The Wolfpack Investor Network (WIN) is an initiative which connects alumni investors with promising NC State-affiliated startup companies to facilitate angel investments. In its fourth year of operations, WIN continues with 135 members. Starting fiscal year 2020-21, WIN members and sidecar investment vehicles have invested approximately $3.85 million into twelve portfolio companies screened by WIN staff bringing the total in less than 4 years to approximately $14.25 million.
The education component of WIN is its diligence program. WIN utilizes both MBA graduate students as well as graduate students in STEM disciplines to perform due diligence on each company that presents to the membership. Each WIN diligence team is led by a Technology Commercialization & Entrepreneurship (TEC) Program Scholar. Within FY 2019-2020, about 15 graduate students assisted with the WIN due diligence process. Faculty members are also a key component to WIN's screening process.
Faculty from multiple colleges from NC State have assisted WIN in screening applicant companies for possible investment promise. To date, approximately 30 faculty members have aided in the WIN screening processes. The twelve WIN portfolio companies closed within FY 2019-20 drive innovation, job creation, and positive environmental impact in North Carolina and beyond. Economic development occurs as WIN supports new startups mostly anchored in North Carolina, spawning jobs and wealth creation. Below are a few examples:
UVision360 (Medical Device): dedicated to the advancement of a fully integrated hysteroscopy and cystoscopy system to fulfill unmet needs for diagnostic & therapeutic procedures for the modern office.
Advanced Animal Diagnostics (Animal Health): provides livestock producers with on-site diagnostics that improve profitability and empower more precise care of animals so they live healthier, more productive lives.
Diveplane (Artificial Intelligence): groundbreaking technology start-up dedicated to keeping the best of humanity in artificial intelligence.
Improved Nature (Agriculture Technology): produces a plant-based soy product that can be used a variety of ways, creating a more sustainable way to feed large amounts of people.
In 2020, WIN held a "Women in Angel and Venture Capital" event and invited female WIN members, female WIN portfolio company leaders, and a few additional women within the local entrepreneurial ecosystem to a dinner and casual forum focused on increasing female participation within WIN and beyond. The WIN initiative is currently being housed in the Kenan Institute offices and KIETS Associate Director Raj Narayan serves as a member of the WIN Steering committee.