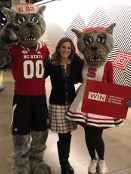 The Wolfpack Investor Network (WIN) is an initiative, which connects alumni investors with promising NC State-affiliated startup companies to facilitate angel investments. In fiscal year 2021-2022, WIN members and sidecar investment vehicles surpassed investing over $17 million into NC State-related startups since the network's inception in December of 2016. During fiscal year 2021-2022, WIN invested over $2 million into 14 portfolio company transactions screened by WIN staff. In the past year, WIN was able to celebrate its first two portfolio company exits. In July 2021, WIN portfolio company EmployUs was acquired by Hireology, and in January 2022, WIN portfolio company The Climate Service was acquired by S&P Global.
WIN engaged 18 MBA and STEM graduate students to perform due diligence on each company that presents to the membership.  In addition, WIN had 3 undergraduate interns who were involved in the past year. To date, approximately 45 faculty members have aided in the WIN screening processes. The 14 WIN portfolio companies closed within FY 2020-21 drive innovation, job creation, and positive environmental impact in North Carolina and beyond. Below are a few examples:
Revibe Technologies, Wake Forest, NC (Digital Therapeutic): Manufacturer of the Revibe Connect, the first attention focusing wearable designed by a school psychologist.
Kwipped, Wilmington, NC (B2B Information Technology): Specializes in the development of B2B equipment e-commerce solutions for B2B equipment.
Natrx, Raleigh, NC (Advanced Materials): Provides solutions that protect shorelines and the surrounding environment. Its patented technology allows the team to produce naturalistic structures that are customized to the project site conditions.
SonoVascular, Durham, NC (Medical Device): Developing a multi-mechanism thrombectomy system for the endovascular treatment of arterial and venous disease, including deep vein thrombosis, pulmonary embolism, peripheral artery occlusion and acute ischemic stroke.
The WIN initiative is currently being housed in the Kenan Institute offices and KIETS Associate Director Raj Narayan serves as a member of the WIN Steering committee. NC State University, along with UNC-Chapel Hill and Duke University have created the Triangle Venture Alliance to build a network of angel groups that will tap into each university's alumni base and come together to invest jointly when there are alumni overlap within the startup company as well as shared interest in the investment opportunity. As of February 2022, the Triangle Venture Alliance had invested over $74 million dollars into approximately 85 portfolio companies. WIN continues to develop a sustainable business model for its operational needs and is in discussions with several potential venture group partners to collaborate on its operations and to establish an investment fund.