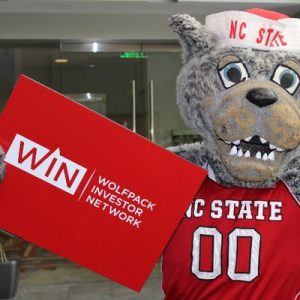 The Wolfpack Investor Network (WIN) is an initiative that connects alumni investors with promising NC State-affiliated startup companies to facilitate angel investments. In its third year, WIN membership has exceeded its fifth-year membership target with approximately 150 members to date. WIN has noted a large increase in both quantity and quality of startup companies seeking investment in 2019 and is on track to receive 150 – 200 company applications per year.
Since its inception, WIN members and sidecar funds have invested a total of over $10.5 million in 20 portfolio companies. WIN closed six investor transactions making the total investment amount for the 2018-19 fiscal year approximately $4M (including side car funds). One of the five deals was eligible for additional investment via the endowment from the university's Seed Capital Endowment Fund, which contributed $50,000. Five of the deals were also eligible for the Venture Capital Multiplier fund from Hatteras Venture Partners, totaling $555,000.
As of September 2019, WIN is had closed three transactions each totaling more than $1M. The education component of WIN is its diligence program. WIN utilizes both MBA graduate students as well as graduate students in STEM disciplines to perform due diligence on each company that presents to the membership. Each WIN diligence team is led by a Technology Commercialization & Entrepreneurship (TEC) Program Scholar.
Faculty members are also a key component of WIN's screening process. Faculty from multiple colleges from NC State have assisted WIN in screening applicant companies for possible investment promise. To date, approximately 20 faculty members have aided in the WIN screening processes. The WIN initiative is currently being housed in the Kenan Institute offices and KIETS Associate Director Raj Narayan serves as a member of the WIN Steering committee.