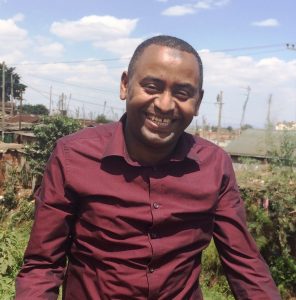 Please join us for a luncheon roundtable featuring 2016 Eisenhower Fellow Salim Mohamed CoFounder of Carolina for Kibera for his talk on:
"Finding Purpose and Passion in Your Work"
11:30 a.m. to 1 p.m., October 18, 2016
Duke Energy Hall, Sections A&B
Second Floor of the James B. Hunt, Jr. Library
NC State Centennial Campus, Raleigh, NC
Twelve years ago, Salim Mohamed co-founded Carolina for Kibera (cfk.unc.edu), a nongovernmental organization that serves the population of Kibera – the biggest slum in Africa and home to an estimated one million people. Salim's passion to break down negative stereotypes of impoverished slum dwellers and help them find their own selfconfidence and success stems from his childhood as an orphan, when he organized sports teams as a teenager to help others like himself gain respect and dignity. CFK's programs – which range from social service provision to youth sports leagues to empowerment activities for girls and women, among many others – have to date engaged 40,000 youth in sports, created 70 safe spaces for 50,000 girls, fed 15,000 displaced people and provided 400 school scholarships.
Seating is limited for this event. Lunch will be served.
Please RSVP by October 11, 2016 to Jackie Parker at jnparke2@ncsu.edu or (919) 515-0273.