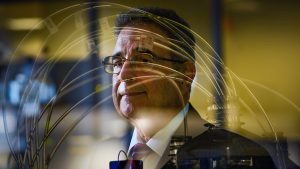 Manufacturing USA, launched in 2015, is a nationwide network of 14 public-private institutes, each of which focuses on a specific field of manufacturing technology. NC State is directly involved in seven of the 14 institutes — the most of any university in the country.
NC State's proven success in partnership was instrumental to the arrival of the newest Manufacturing USA institute on campus: the National Institute for Innovation in Manufacturing Biopharmaceuticals (NIIMBL). The university's track record in establishing and leading the Golden LEAF Biomanufacturing Training and Education Center (BTEC) — which helps educate and train students and industry professionals in biomanufacturing — makes NC State a strong partner for NIIMBL.
"BTEC will enhance what we're able to do with NIIMBL — improving workforce development and helping us uncover new processes to ensure success for the industry," said Ruben Carbonell, director of the Kenan Institute for Engineering, Technology & Science, chief technology officer for NIIMBL and director of BTEC.
Carbonell added that the launch of an institute like NIIMBL couldn't be more timely.
Read more