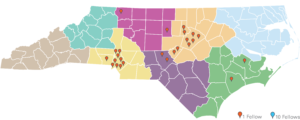 RALEIGH, N.C. – On National Teacher Day, the Kenan Fellows Program for Teacher Leadership is pleased to reveal the 25 North Carolina public school educators who have been awarded 2018–19 fellowships. This cohort of K‒12 teachers from across the state were selected from a highly qualified applicant pool of more than 70 educators following a competitive application process.
"We identify and empower teacher leaders who want to grow their subject area knowledge and deepen their understanding of workforce skills to influence and motivate their students, peers and the broader community," said Dr. Elaine Franklin, director of the Kenan Fellows Program for Teacher Leadership. "We are proud to announce such an exceptional cohort of teachers and look forward to seeing what they will accomplish during their fellowship year."
Teachers often do not have the opportunity to engage with the world beyond their classroom. How can teachers be expected to best prepare their students for the world outside of school if they themselves have not had a chance to experience the culture of contemporary workplaces? The Kenan Fellows Program provides teachers with the opportunity to work in industry and research settings and supports the translation of their industry experience into an array of instructional resources that are then shared with their schools, districts, and communities.
This summer, the 2018–19 Kenan Fellows will spend at least three weeks interning with local experts in agriculture, scientific research, energy, high-tech manufacturing and other STEM fields. As part of the award, Kenan Fellows receive a $5,000 stipend and participate in 80 hours of professional development that focuses on instructional leadership, elevating teacher voice, strengthening ties between the school and the local community, peer coaching and mentoring, and growing professional learning networks that extend beyond the school and local district.
Read more