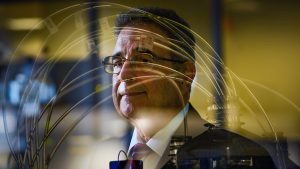 Dr. Ruben Carbonell, Frank Hawkins Kenan Distinguished Professor of Chemical Engineering at North Carolina State University and director of the Kenan Institute for Engineering, Technology & Science, has received the O. Max Gardner Award, the most significant universitywide honor given to faculty by the University of North Carolina System, for his contributions in engineering, health care, education and public policy, according to a press release by the NC State News Service.
The award is presented each year to one faculty member from the system's 17 campuses recognized as having "made the greatest contribution to the welfare of the human race," the press release said. Carbonell's distinguished career at NC State includes significant contributions in research, entrepreneurism, administrative leadership, and service to the university community and the general public, according to the release.
Watch a video highlighting Dr. Carbonell's career here.
Read more