By Beverly Owens
Republished curtsey of EducationNC
Community and positive relationships with colleagues are paramount to establishing a supportive environment for educators. When teachers have strong relationships with each other, they are better equipped to build a positive culture in their classrooms and beyond.
As a 2021-22 Kenan Fellow, I found a network of like-minded teachers who were willing to share resources, collaborate on projects, and encourage one another. This support system extends far beyond the yearly cohort of K-12 educators who are selected as Kenan Fellows. I've received advice and informal mentorship from many previous Kenan Fellows, and I strive to pass on that tradition to future fellows.
About 20 to 30 educators from across the state are awarded fellowships each year. The formal fellowship lasts one year, but its impact is long lasting.
Kenan Fellows have an incredible opportunity to get behind-the-scenes experience at industries across North Carolina. The fellowship is administered by the Kenan Fellows Program for Teacher Leadership at N.C. State University.
As teachers, we try to show students that the future is full of opportunities. At my school, Cleveland Early College High School, we focus on enrollment, enlistment, and employment.
But what if you don't know what jobs are available in your community? What if you have students interested in entering the workforce directly after graduation? How can we help guide those students in exploring future career opportunities?
This is where Kenan Fellows comes in; a remarkable experience that connects industry partners with educators right in their own community.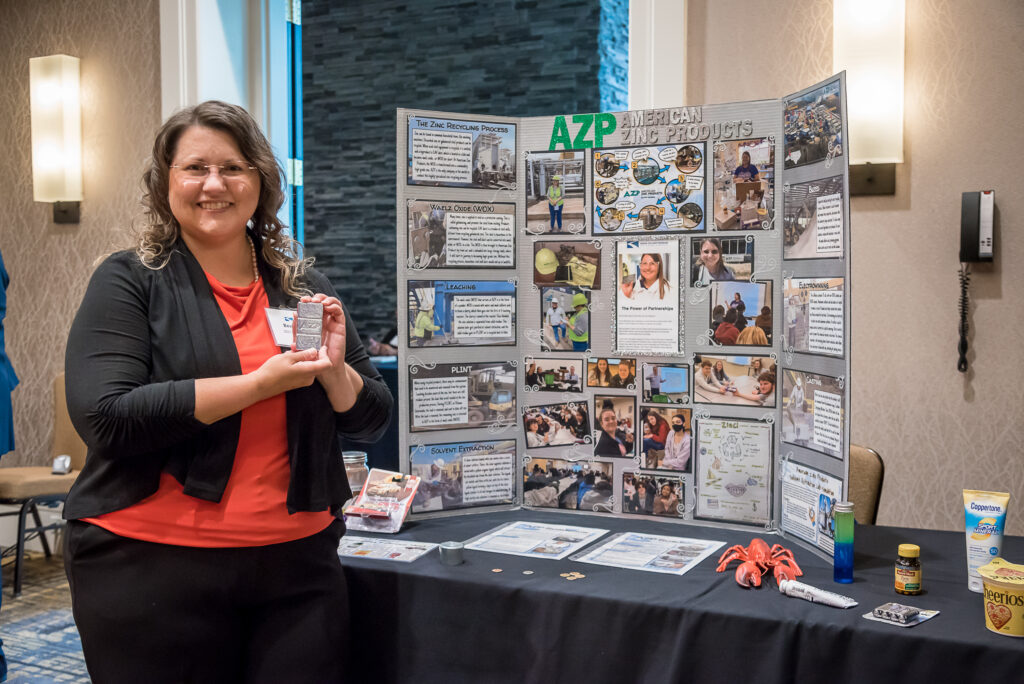 In 2021, I conducted an internship with American Zinc Products (AZP) in Mooresboro. My mentor, Mia Chapman, connected me with several staff members who provided insight into the goals of the facility, as well as allowed me to shadow them on the job. AZP is the only facility in the world that produces zinc solely from recycled materials. And it is right here in North Carolina, in my community. How cool is that?
Kendall Oliphant, process quality manager at AZP, walked me through the chemical process that recycled zinc goes through as it transitions from waelz oxide (WOX) to a high-grade zinc product. As a chemist, he was able to provide me with background information necessary to help me understand the process used in this industry. It also generated ideas that I could use in the classroom. My students explored immiscibilty of oil and water through hands-on activities simulating the solvent extraction process, and we made silver pennies by plating zinc onto the copper, simulating the electrowinning process at AZP.
If I hadn't participated in the Kenan fellowship, I would never have learned that this amazing facility existed in my own community. My students wouldn't have done those engaging hands-on activities, and they wouldn't realize that there are career opportunities like this in their backyard.
My Kenan Fellows experience is not unique. Every Kenan Fellow walks away with an inspiring life-changing experience. I spoke with other Kenan Fellows who shared how the fellowship transformed them.
For instance, 2022-23 Kenan Fellow Emily Lahr is completing a project with the Burroughs Wellcome Fund and STEM East where she is creating an asset map of STEM diversity, equity, and inclusion resources in the eastern part of the state. "I have been increasingly reflective on my teaching practice and personal experiences as a result of this fellowship," says Lahr, who teaches at Greene Central High School. "I have found a renewed passion for my purpose in the classroom."
Other Kenan Fellows like Courtney Najdek say the fellowship inspired them to step outside of their comfort zone. Najdek, a 2022-23 Kenan Fellow and a social studies teacher in Hendersonville, completed her industry-based professional development at Asheville Greenworks, a volunteer-led environmental conservation nonprofit organization.
Najdek researched how Asheville Greenworks could make its organization more accessible for individuals with disabilities. And she is writing a guide that outlines strategies for working with people with disabilities. The guide will provide information on common disabilities and beneficial accommodations/modifications for use by Asheville Greenworks. Her fellowship is supported by Meta (formerly Facebook).
"Over the last few months, I have stepped outside of my comfort zone and taken on new leadership roles," says Najdek, a self-described introvert. "A year ago, I would have never imagined that I would be able to do that and know without a doubt that I would be successful."
The Kenan Fellows 2023-24 application period opens Nov. 14.